When you sit down with your loved ones to acknowledge and celebrate the arrival of a new member, nothing is more beautiful. To announce a pregnancy is to cherish the moment that you dearly wished for.
It can get a little intimidating to check with your first positive test. That sweet excitement with a little fear is normal, so mothers, do embrace this very moment and every moment that comes along with this pregnancy.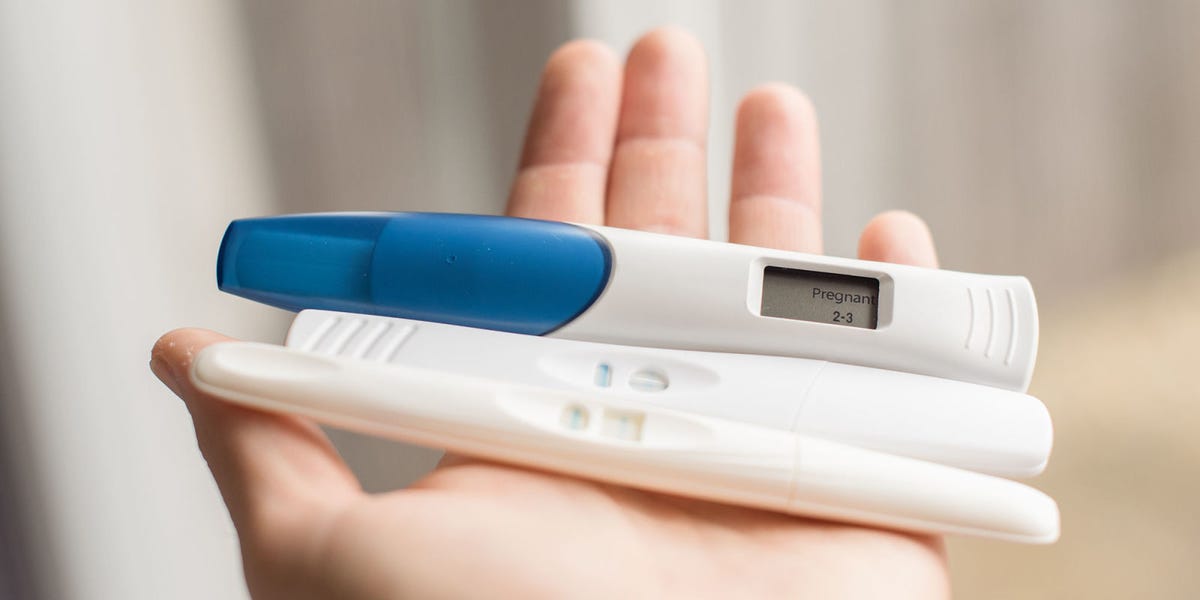 We will discuss when to announce pregnancy & 10 super creative ideas to announce your pregnancy, ahead in this article.
Is there a right time to announce pregnancy? Must we wait for such a long time to celebrate probably the best moment of our life is this pregnancy.
Yes, sometimes, it's best to wait. When to announce pregnancy? The pregnancy announcement needs at least 12 weeks to play on the safe side.
1. Pregnancy Announcement
"Being pregnant means every day is another day closer to meeting the love of my life"
A pregnancy announcement is the celebration of your baby's arrival. You can celebrate this news with your family, friends, colleagues, etc. It can be a small gathering of family and close friends or it can be a big party, whatever is your style.
With the current COVID-19 Situation, you can announce your pregnancy on Social media or you can even have a live stream with your friends/families in a group video.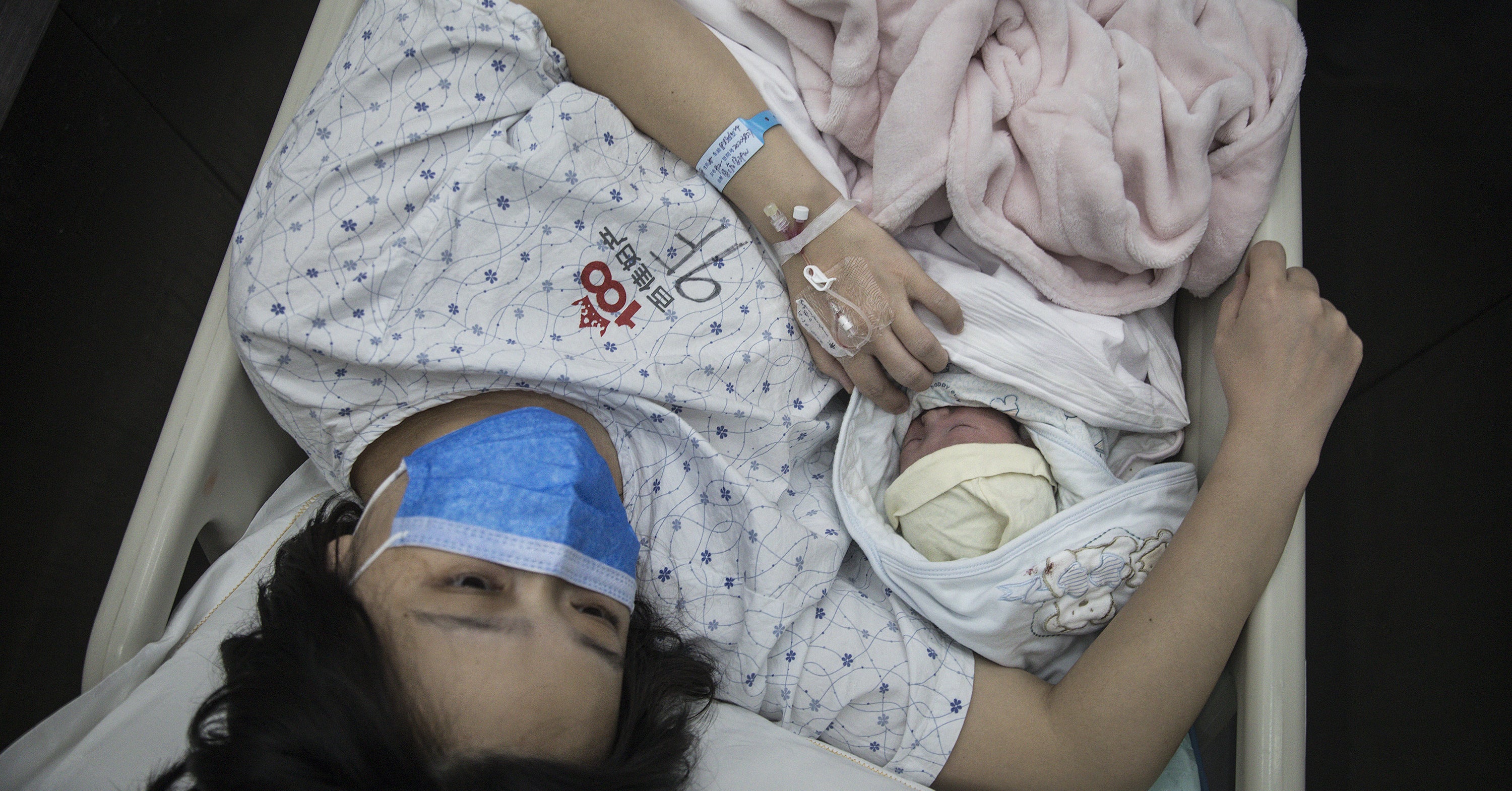 Related: Pregnancy Diet & Nutrition-You'll Need While Pregnancy
Most of the mothers recommend announcing pregnancy once you have outlived the initial 12 weeks of your pregnancy. There is a lot that can happen in the 12 weeks span of your pregnancy. Although it is rare that things might go downhill, it is important to depend on a healthy pregnancy.
Why must we wait for 12 weeks? There are many factors that influence people to wait until the 12th week is over. These factors include,
The chances of miscarriage
The results of the first healthy prenatal check-up
Recurrent Pregnancy Loss
2.1. Risks Of Miscarriage
If you are a mother-to-be, you are already familiar with the fear of miscarriage. Miscarriage is rarely a mother's unintentional mistake. At most, it is out of our control, all that we can do is stay healthy, stay safe during the pregnancy and after it.
The first trimester or the initial weeks of pregnancy are very new for you, your baby, and your body. The number of hormonal changes can sum up to stress and difficulty in coping.
So, make sure you stay hydrated and healthy, and try to avoid those hormones. The initial weeks of pregnancy also decide if your body is ready for this pregnancy. So, if you are healthy and your body is prepared for the baby, no harm will get to you.
Almost 80% of miscarriages happen in the first trimester, hence it's important to wait up to 12 weeks to announce your healthy pregnancy.
WHO beautifully studies, and treats mothers with recurrent miscarriage and other miscarriage issues. To learn more about it, refer to the link mentioned above.
2.1.1. What Causes Miscarriages?
Chromosomal abnormalities
Missing or extra chromosomes
Mother's poor health
Diabetes in mother
Uterus and cervix issues
Thyroid diseases
Hormonal issues or infections
Woman's age (Age 35- 15% chances of Miscarriage, Age 45- 35% chances of miscarriage, Age 45+ 50% chances of miscarriage.)
DO NOTE: Chromosomal abnormalities do not pass through parents to the baby. It highly depends on how the embryo divides itself and that process, if gone wrong, results in chromosomal abnormalities.
The risk of miscarriage drops to 5% after the initial 12 weeks are over and thus, many parents prefer to cross that threshold before announcing the pregnancy.
RELATED: 5 WAYS TO AVOID MISCARRIAGE
2.2. The First Prenatal Check-up
The first prenatal check-up gives a green signal to parents who are waiting for their baby's health news and status. Your first prenatal check-up usually happens around the 8th week.
This check-up assures parents of a healthy pregnancy, uterus, baby, and mother. It also lets you witness your baby's heartbeats assuring its health.
2.3. Recurrent Pregnancy Loss
If you have previously lost a baby to miscarriage, chances are your body will need more effort to conceive again. This cannot be self-witnessed.
You will need to make an appointment with your doctor who will assist you in many studies, check-ups, and tests to ensure if your body has fully recovered and if your body is ready for another pregnancy.
These tests may include blood tests and studies that will decide the cause of your miscarriage. While this can be disheartening for mothers who are trying to conceive after a miscarriage, it is possible to get pregnant with the right treatment.
3. The pros of waiting to announce your pregnancy In The First Trimester
As discussed, there are multiple reasons why you must wait for at least 12 weeks. These factors, as discussed above, are:
You wouldn't have to fear the risks of miscarriage because, after the threshold of 12 weeks, it will drop down to 5%.
Once you are done with the first prenatal checkup, you will have the surety of the ULTRASOUND, the comfort of your baby's healthy heartbeats.
Waiting for 12 weeks will also give you enough time to stabilize yourself into not hurry the news. These 12 weeks can help you stabilize your mental health.
You will have the time to decide the best announcement party for your baby.
Explaining to your family/friends about the loss can be traumatic.
It's important to know that you can wait even further if you are unsure of the pregnancy hurdles or if you are simply not ready, it's alright!
Mothers who have gone through previous miscarriages, or had a hard time conceiving may wait for 20 weeks just to be sure.
You can disclose the news to your close friends or your family if you want a little moral support. If you are not comfortable, many moral support centers can help you share your heart's content without worrying about anything.
You can either find an online forum to spill your heart's content or ask your doctor for a support team.
Related:
4. The Cons Of Waiting To Announce Pregnancy In The First Trimester
While it's good to wait for 12 weeks or sometimes even longer. It can get tiring to withstand every flaw and every hurdle that pregnancy comes with alone.
The support that you will get from your family will share your burden and pregnancy news. The lack of support, on the other hand, will burden you physically and morally.
Not announcing pregnancy might leave you alone with the chores that you shouldn't physically take.
No news of your pregnancy will leave you with more work at your office and no mental/personal help since they are not aware.
You might not get leave, or free time to embrace and prepare for your pregnancy since you will be busy with life
You will be missing out on a lot of comforts that families/friends naturally provide to a pregnant woman.
If you need mental/physical support, it's best to personally let your colleagues/few family members know of your happy news.
Related:
5. Who Should You Announce Your Pregnancy First?
You can either divide different groups of family, friends, and colleagues or you can throw a big party, whatever is your choice. If you wish to draw a boundary over your celebrations, it's best to announce pregnancy to different groups at different times.
Start with your family, next to your friends, and then probably your colleagues and employees.
As discussed, this COVID-19 situation will not allow you to celebrate in person. Nonetheless, you can always have a virtual announcement over different group video calls.
You can even make groups to inform about your pregnancy on social media over a text a video or an old-fashioned card.
5.1. Pregnancy Announcement To Your Family
Your pregnancy news is special to your parents, especially if this is their first grandchild. Parents' blessings hit differently because they genuinely love you unconditionally and they genuinely will love your child unconditionally.
No matter what angle you look at, the family's support is a huge backbone for the whole house. If you are ready, let your parents know personally and take their blessings. Next, decide with your husband as to how to announce the pregnancy to the whole family.
Don't be too fast at it, take your time, and embrace this news with your family with a long holiday at home, or wherever you decide to throw the party.
RELATED: BEST BABY SHOWER GIFTS 2020
5.2. Next up, Friends
The second support system is your friends, of course. While your family might or might not understand you at many stages, your friends will! They will understand exactly what you feel and they will be there for your moral support.
Let your best friend know and decide all the beautiful deeds for the big announcement.
5.3. Sharing With Your Employer, Colleagues, And Office
This pregnancy announcement is very important since you will have to cut down your office hours sooner or later. Physical work is something you cannot afford while being pregnant and even afterward.
When must you disclose this news to your Employer? If your job expects a lot of physical or chemical work, it's best to inform them formally of your pregnancy at the very beginning of your first trimester to safeguard your baby and your body.
But if your work isn't physical, take your time but make sure you give enough time to your boss to proceed with things flexibly. You are entitled to all the benefits mothers must receive while being pregnant under the law.
6. When Do Most People Announce Pregnancy?
Thus, parents wait for at least 12 weeks to announce their healthy pregnancy. We discussed the reasons why it must be 12 weeks or perhaps sometimes a little more but it's best to wait for 12 weeks before you start to celebrate your happy times.
Until the threshold, you always have your partner to fully support you at every angle of your life. Make sure you let your partner know whatever additional help you need once you get pregnant.
Please, make sure that you don't skip taking whatever help possible from your friends, family, colleagues, and your partner.
Related: Before Baby Arrived-11 Things Must To Do For Comfort Zone
7. Beautiful Ideas to Announce Pregnancy
The simplest, the most creative, the funniest 10 Ideas to announce a pregnancy that will leave you giggling, smiling, or perhaps laughing.
1. We Are Pregnant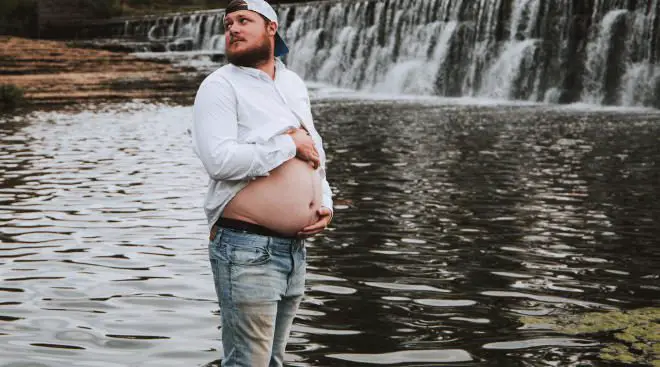 Indeed it's the both of you getting pregnant, so you both must make it evident. For starters, I always prefer the fun way. Dress up your husband in a cute baby dress and give him a bump.
Pose for many pictures pointing at his baby bump and post it with cute captions, like – 'What's brewing?' 'somethin' up with you husband or to-be-da-da-da…?
2. Announcing Pregnancy To Daddy
Invest in funny expressions while clicking these pictures. You can even try it at the announcement party, it would be great laughter. Aren't husbands cute in miniskirts?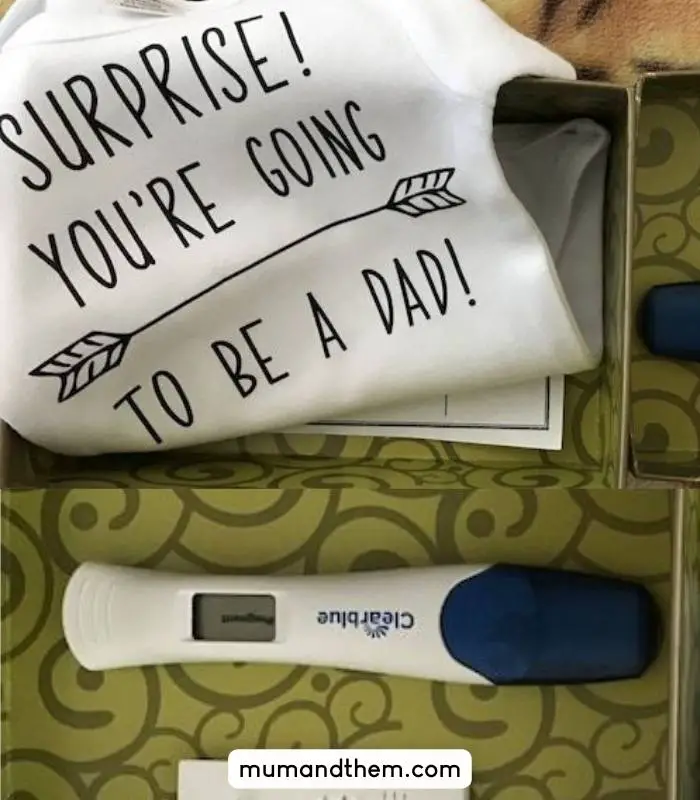 7.2. Announcing Pregnancy With Your Best Man – Your Doggu.
What's better than propping with your cute little doggy? There are 100s of ways to get creative with your dog. Some of my favorite dog-baby announcements are,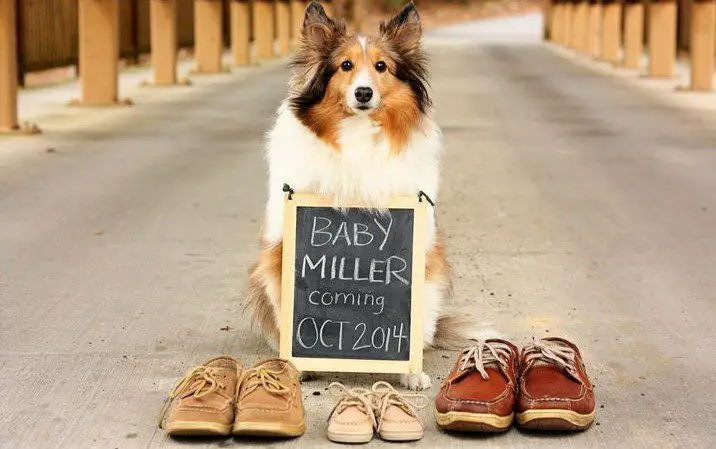 A pair of baby shoes on your dog's tummy with a tagline, 'I'm getting a human with small feet
Your dog with a muffler that says 'I'm the big brother/sister now
A chalkboard beside your dog that says 'Am I not a baby anymore?' with your sonography reports.
7.3. X-ray And Skeleton Fun Pregnancy Announcement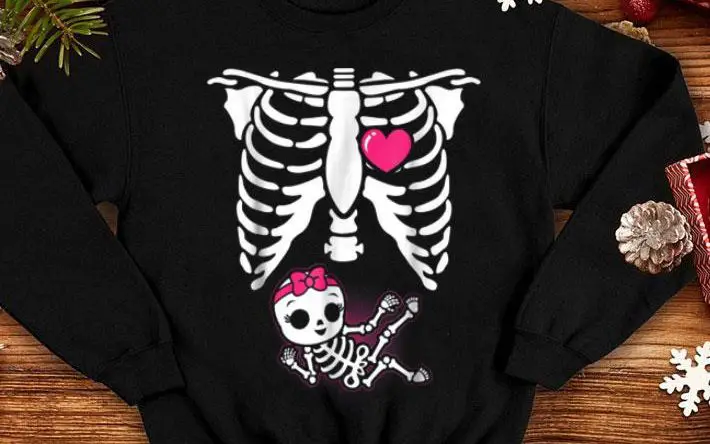 You can make a funny skeleton/X-ray of your uterus and the baby on a chalkboard and let your husband pose with it. It would be really fun to watch him at the party. You can also use strings to position it on your husband's body.
To make it more fun, make your baby's dancing skeleton instead of a sleeping one.
7.4. Surprise Your Hubby – Roleplay
To surprise your hubby, have a simple roleplay. Hurriedly call your husband for an emergency and tell him you have a great deal of pain in your stomach. Lie down on the bed and wait for him to check your belly.
Ask him to hear noises because you sense something weird, and when your hubby brings his ear close to your belly, play the audio clip of a baby crying or giggling. It would be spooky on Halloween.
7.5. Sibling Pregnancy Announcement Ideas – Eviction Order.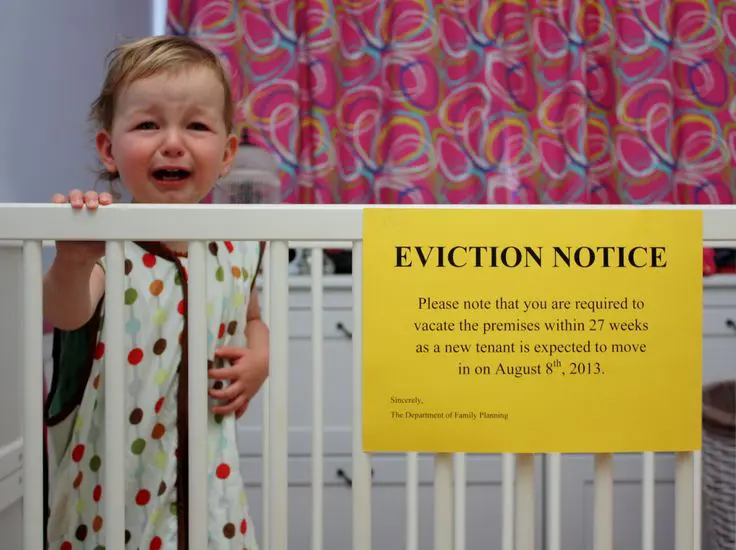 Another role-play with your child through an eviction order. Send an order to your child's nursery to vacate the place because a new baby is arriving. Take mug shots of your baby with the eviction notice and label it on their door, windows, crib, etc.
Related: What To Pack In Your C-Section Hospital Bag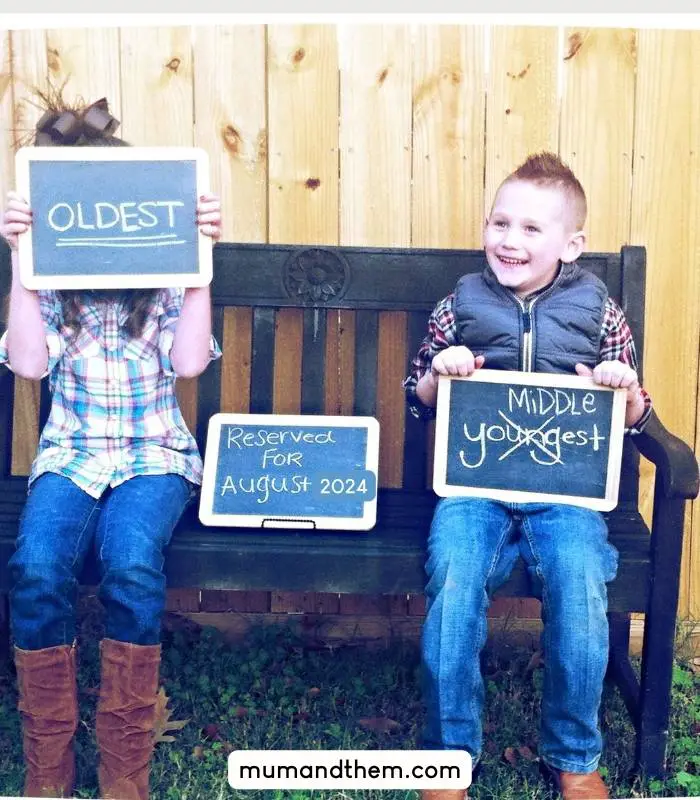 Big Brother Pregnancy Announcement
That's right! Our family is growing, and [Big Brother's Name] is going to have a little sidekick to share all his secrets, play all those fun games, and create memories that will last a lifetime. We couldn't be more thrilled to embark on this journey once again, and we're so grateful to have you all along for the ride.
🌟 Baby Number Two is on the Way! 🌟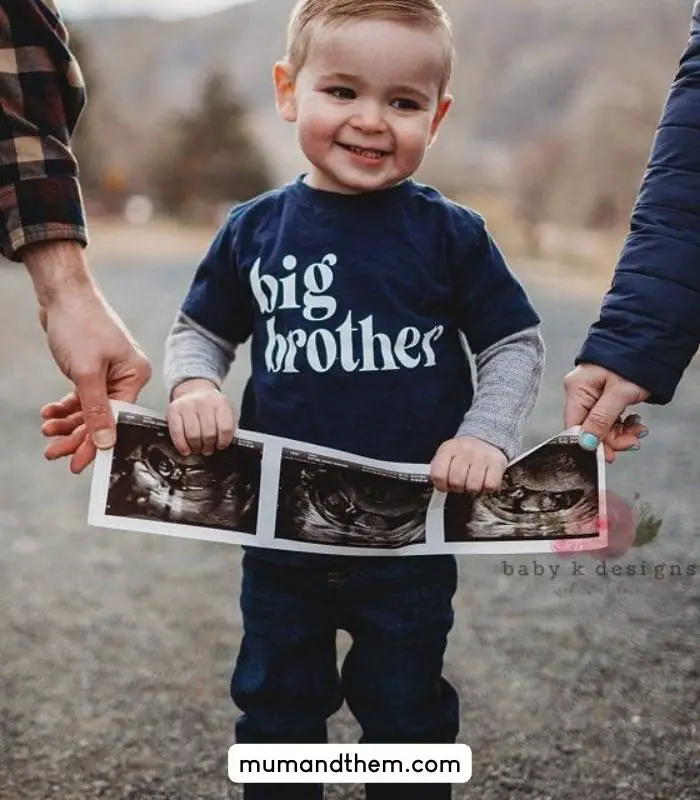 Pregnancy Announcement with Big Sister
Yes, you heard it right! Our family is expanding, and Big Sister is going to have a brand-new playmate, partner-in-crime, and lifelong friend to share her dreams, her secrets, and her heart with. We couldn't be more excited to embark on this journey again, and we're grateful to have all of you as witnesses to this beautiful chapter in our lives.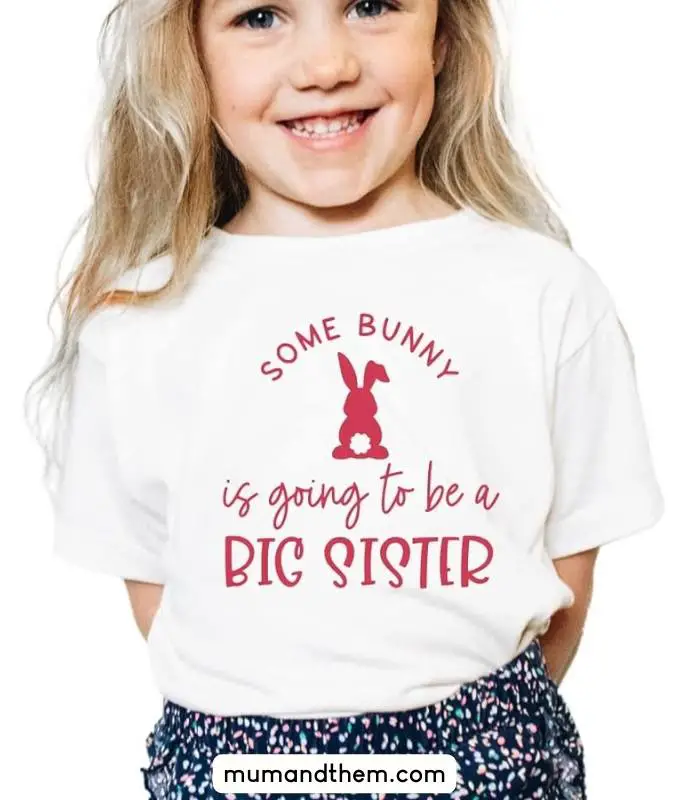 7.6. Play The 'I'm Pregnant' From Friends And TBBT
Invite your family and friends and play these scenes on the big screen. Once the video ends, burst big confetti and play a happy baby song. Let your family get to the message and record all their expression on a camera.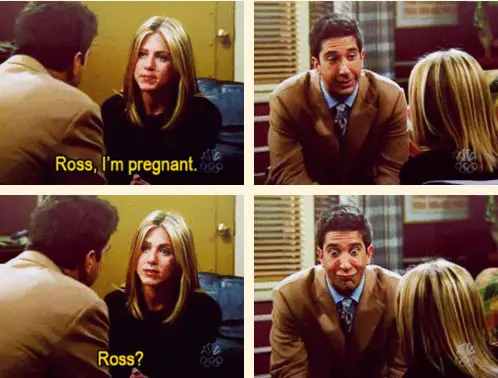 It would be fun to compare their expressions to that of Ross and Howards. Keep the recording safe with you, it will be a great treasure.
7.7. With Your Cat – Announce Pregnancy.
Announcing pregnancy with your cat can be one of the funniest announcements ever made. Why? Because cats are cats. They don't like humans and they barely start to bear your existence.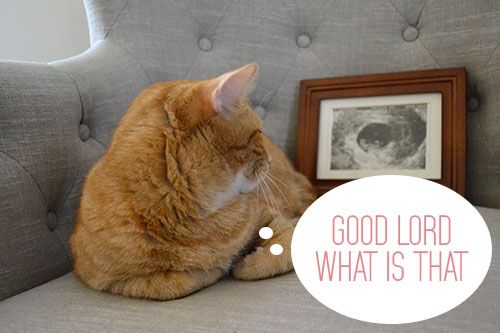 On a chalkboard or with a book, express your cat's dialogue or what she might say with the baby's information
Your cat with a guidebook that says, 'How to ignore an annoying human baby?"
A guidebook that says 'Pilgrimage for the cat who is tired of humans'
'What to do to your parents who have stopped loving you and have started unnecessary procreating'
7.8. Before And After Baby Announcement
Paint a bomb on your bump and set a timer that reads your due date. Click a photo before your baby with all your family.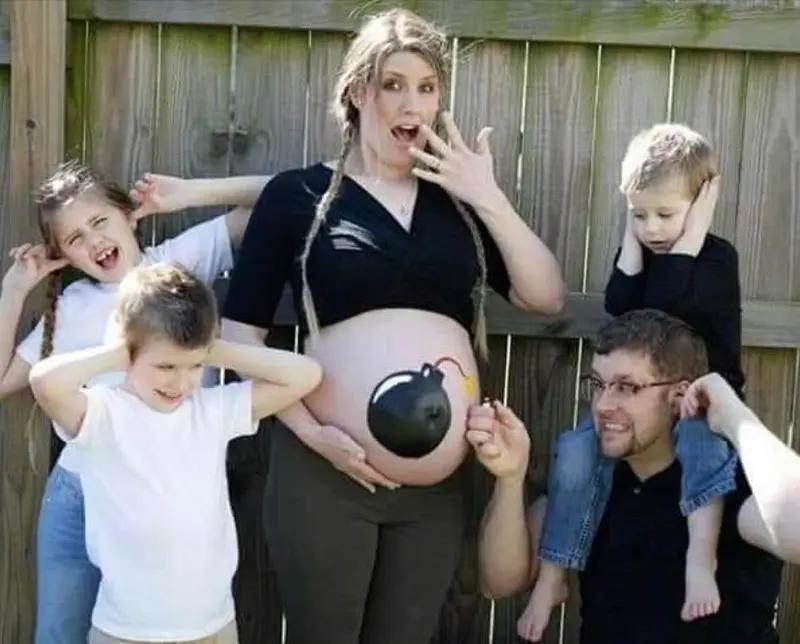 Once the baby comes, and the bomb explodes on the due date, take another photo with exploded hair, dust, clothes, and a smiling baby.
Related: A Birth Plan For Soon-To-Be-Mom
7.9. Surprise Your Husband – Part 2!
Ask your husband to go get the grocery and once he agrees give him the list of all the baby products. It'd be a cute little surprise for your husband. Capture his expression on a camera.
7.10. Dress Your Cat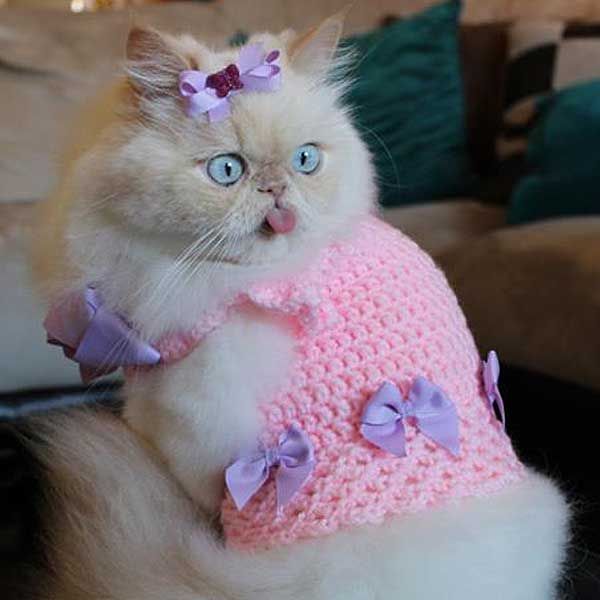 Dress your cat in an oversized diaper and cute baby hat socks and shoes. Let your husband solve the riddle! For more ideas refer to the link given below.
Related: 5 Great Ideas To Announce Pregnancy
7.11 Christmas Pregnancy Announcement
"During this magical season of joy and wonder, we have an extra special gift to share with all of you. Our hearts are filled with excitement and love as we announce that our family is growing! There's a little miracle on the way, and we can't wait to welcome our bundle of joy next Christmas. The best present we could ever ask for! 🎄👶❤️ #ChristmasSurprise #BabyOnTheWay"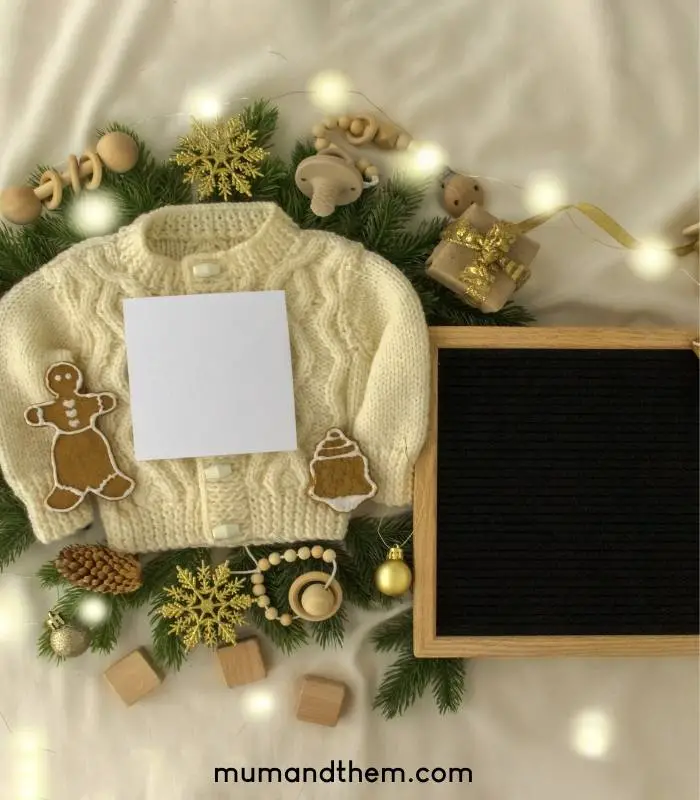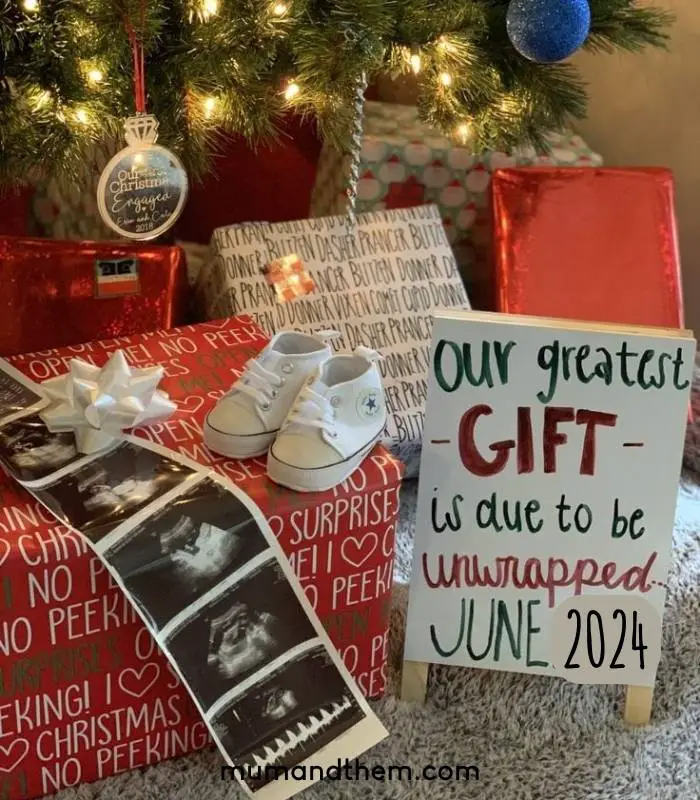 Easter Pregnancy Announcement
As Easter brings renewal and new beginnings, we have a joyous announcement to share: our family is blossoming with a precious Easter surprise! This spring, we'll be welcoming a little bunny of our own. 🌼🐣👶 #EasterMiracle #SpringBabyOnTheWay"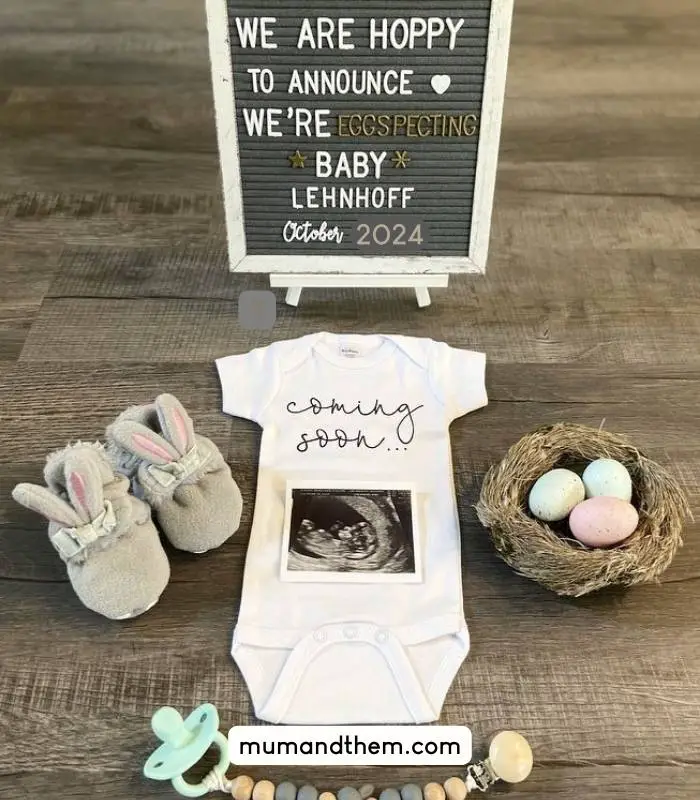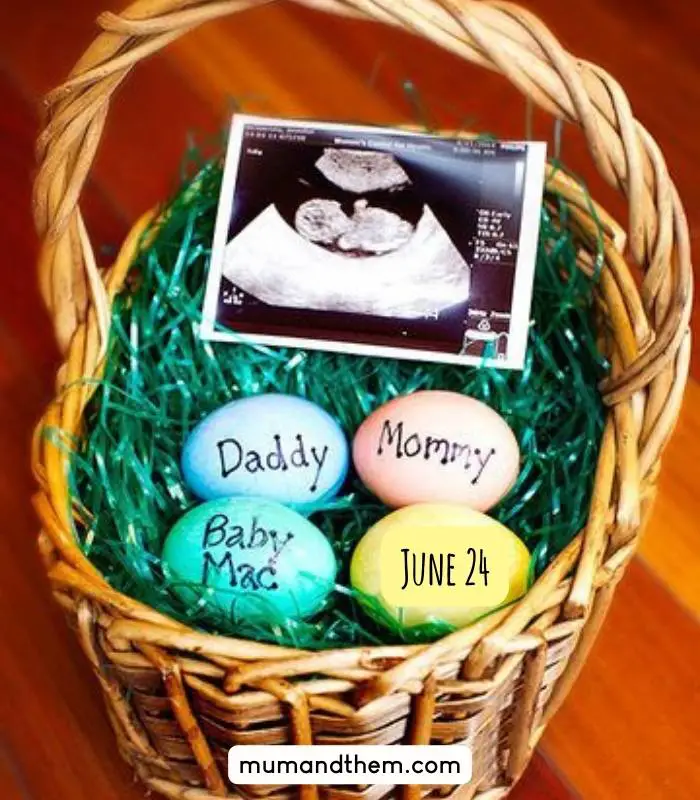 Halloween Pregnancy Announcement
"This Halloween, our lives are about to get a little spookier and a lot sweeter! We're thrilled to announce that a tiny pumpkin is joining our patch. Get ready for a new member of our Halloween crew! 🎃👻👶 #HalloweenSurprise #BooToBaby"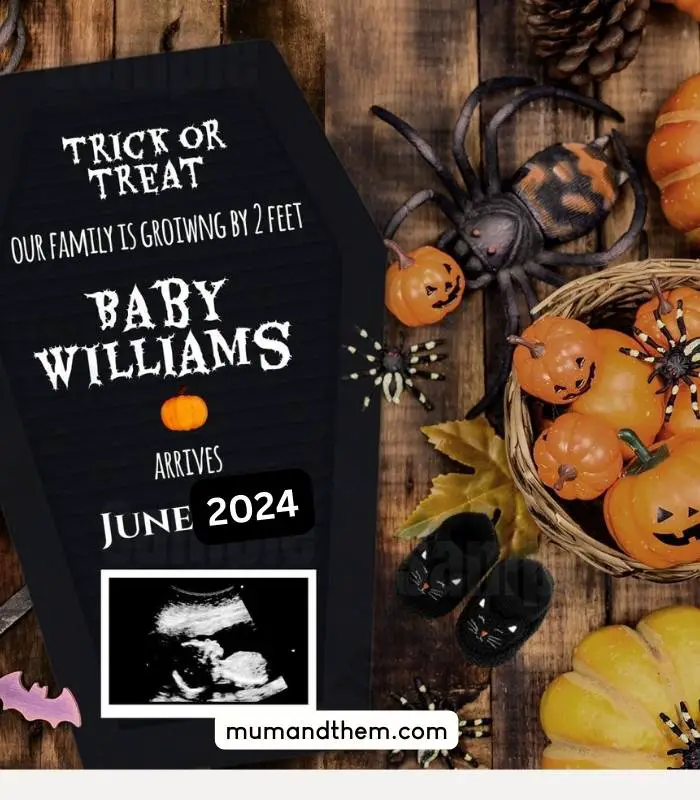 Pregnancy Announcement Halloween costumes
Fall Pregnancy Announcement
As the leaves change and the air turns crisp, we have some exciting news to share that's as warm and cozy as a pumpkin spice latte: our family is growing! This fall, we're falling in love with a little one on the way. 🍂🍁👶 #FallBaby #HarvestingHappiness"

Shirts Announcing Pregnancy
That's right! Our family is growing, and we're expecting a little bundle of joy to join us soon. These shirts are our way of shouting it from the rooftops, spreading the news, and celebrating this beautiful chapter in our lives with all of you.💕👶👕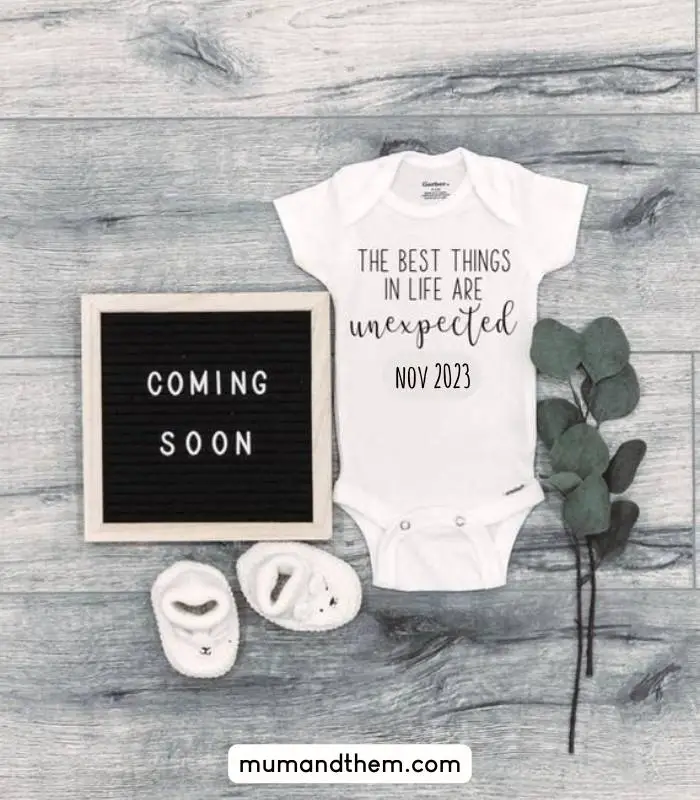 Twin Pregnancy Announcement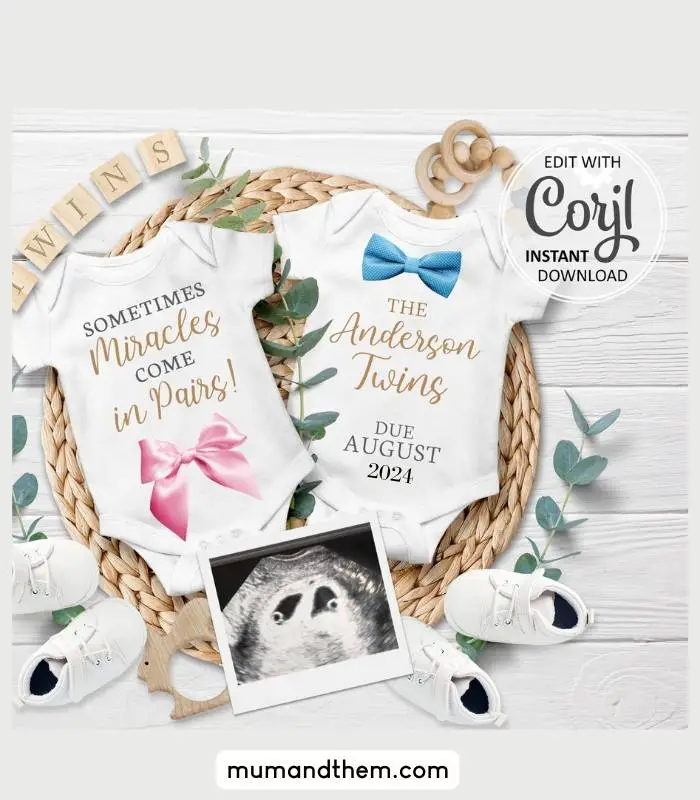 Fishing Pregnancy Announcement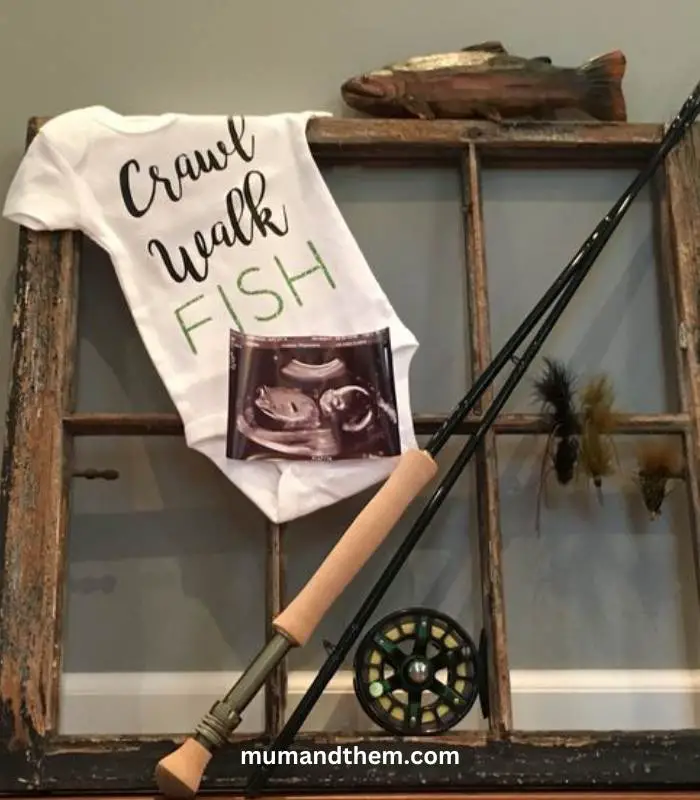 Disney Pregnancy Announcement
Announcing your pregnancy is an exciting moment, and incorporating Disney magic into the announcement can make it even more special for you and your loved ones. Whether you're a Disney fanatic or simply want to add a touch of whimsy to your announcement,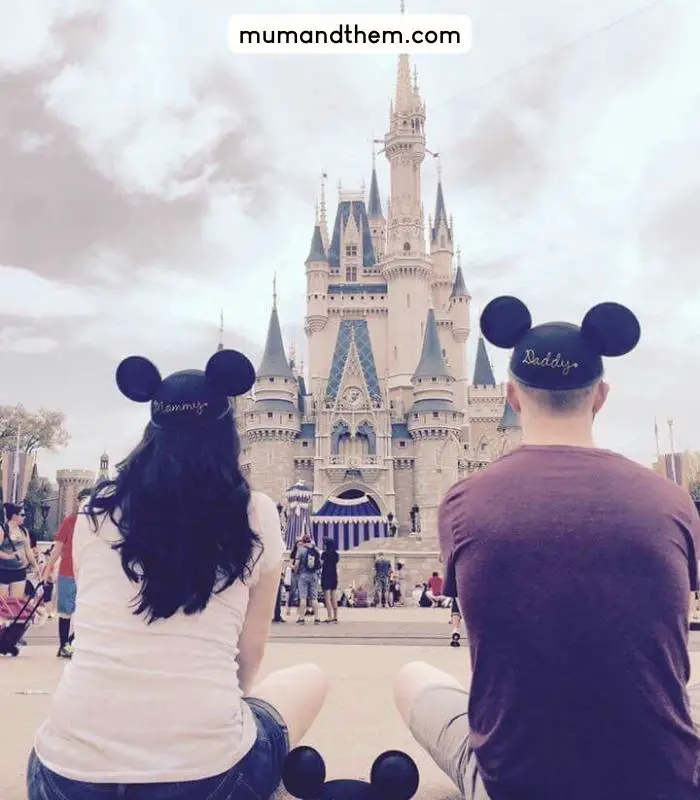 ivf Pregnancy Announcement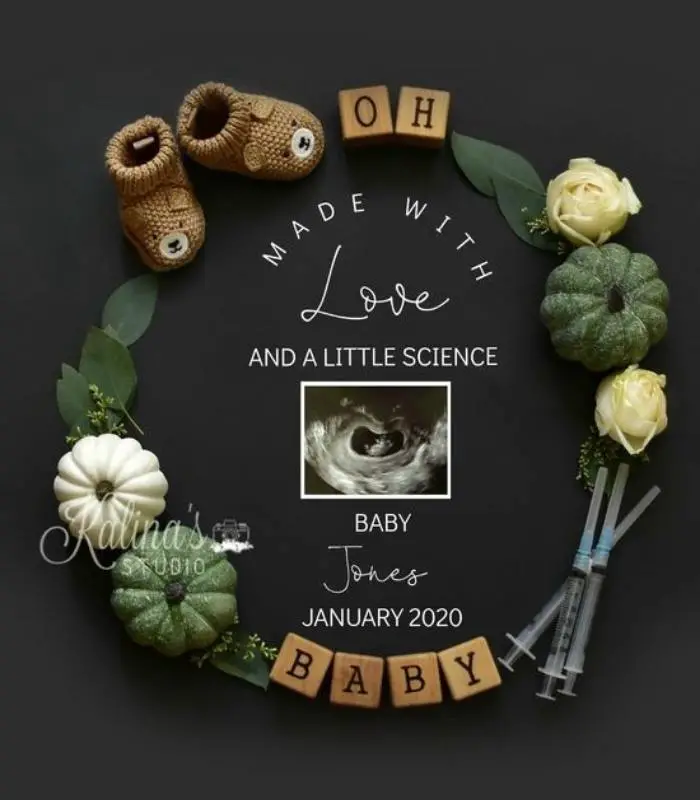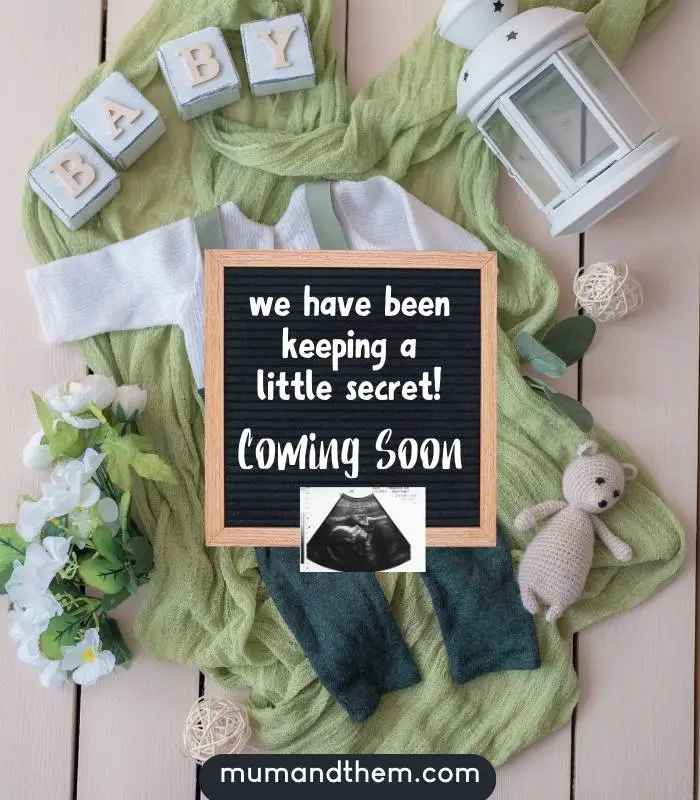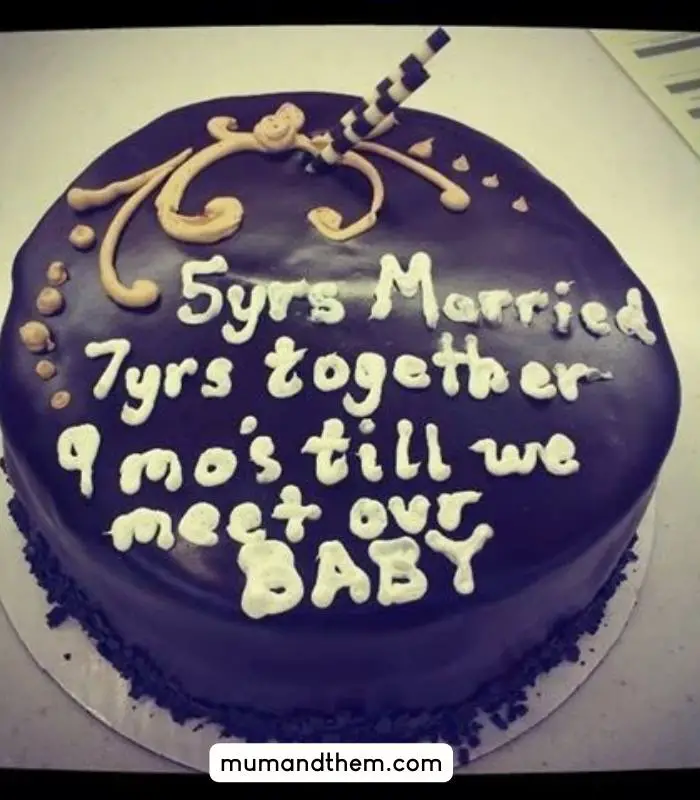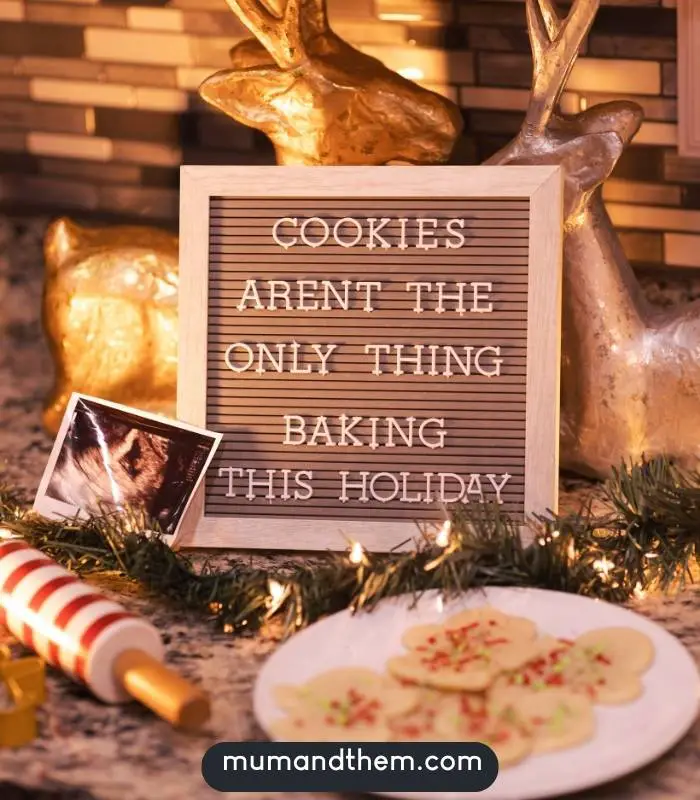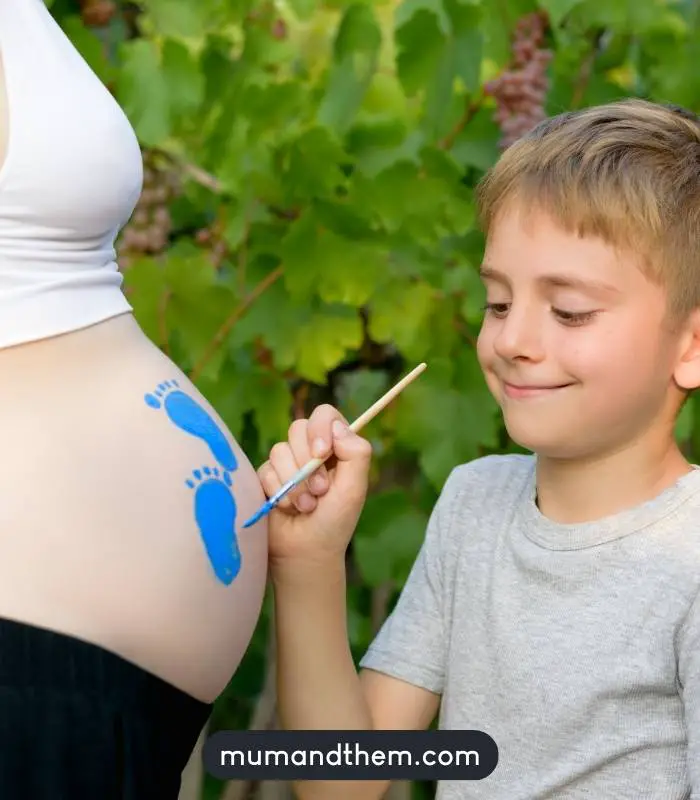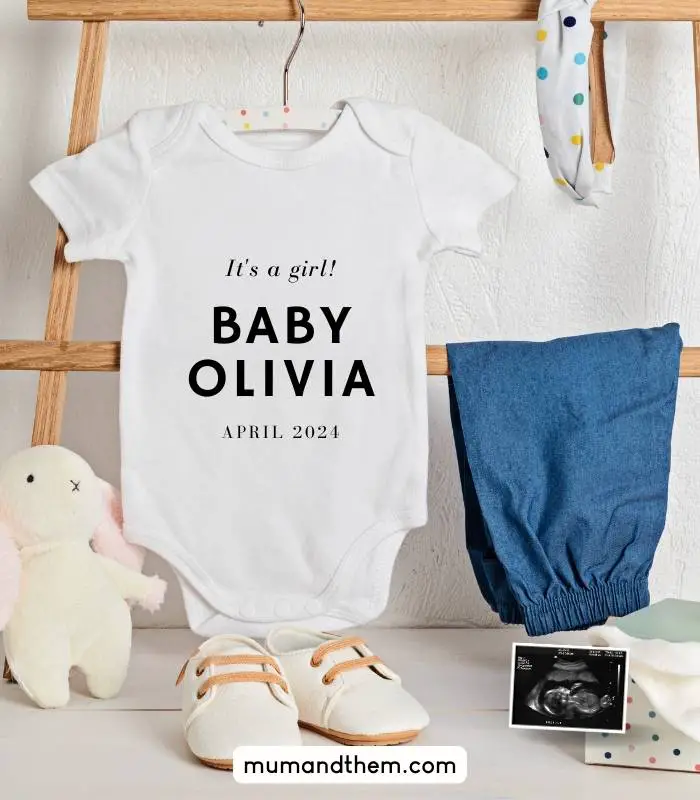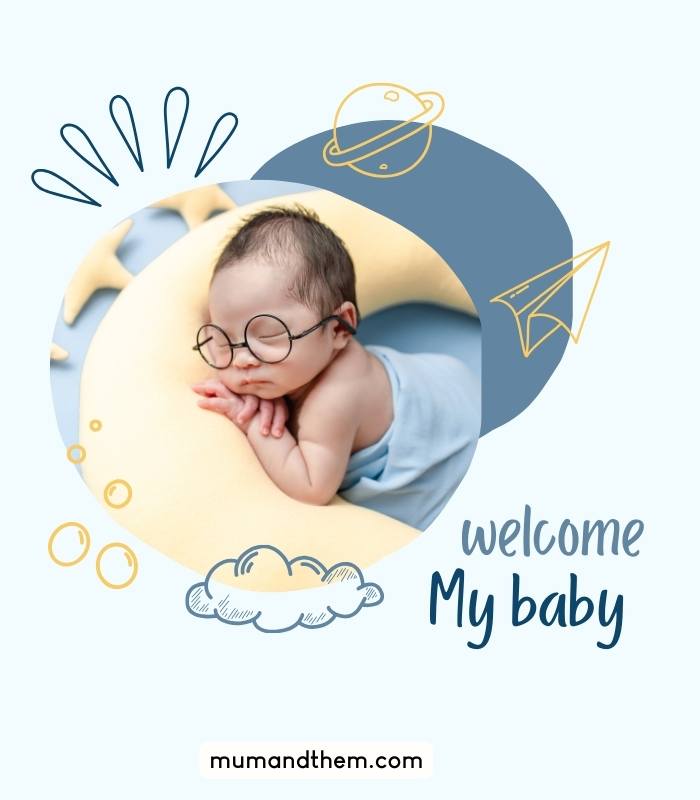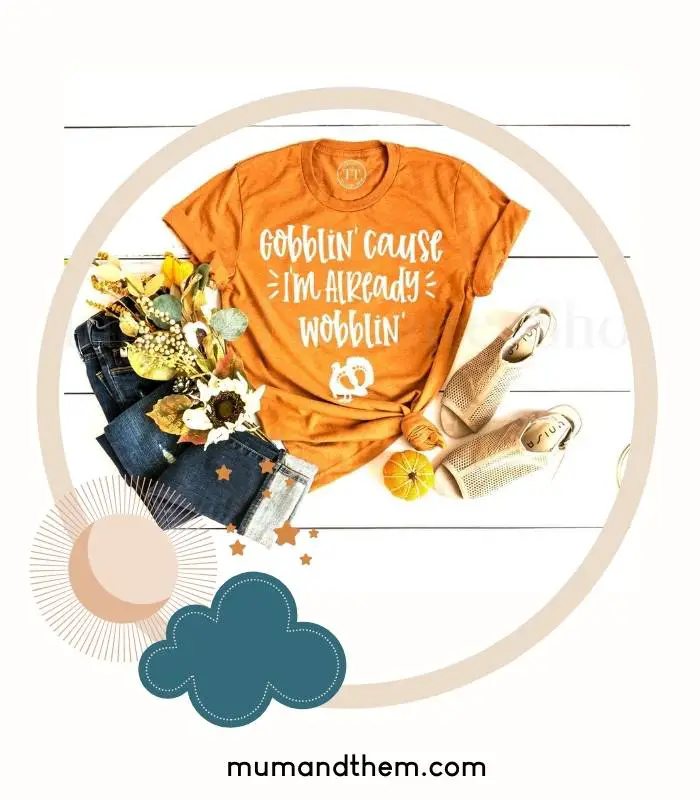 8. When Not To Announce Pregnancy?
Apart from the 12-week threshold, it is best to wait until you are completely ready to share this news with the world. Make sure you are aware of the surroundings while sharing this news to not jinx your happy times.
8.1. What Situations To Avoid While Announcing Pregnancy?
Never a funeral or a date close to it. Respecting a funeral or the gone is a blessing but if it's fine in your family, then go for it. The funeral can make your joyous event less joyous with the grief of the diseased.
So, let the sorrow consume you, and once you are done bidding your goodbye emotionally, mentally, and physically, then plan a pregnancy announcement.
Don't announce your pregnancy if you are not completely ready not in a good mood or are hung with hormonal emotions. Let these emotions subside to fully enjoy your big news with your humans and animals.
Announcing the news to people who are sensitive to such news might hurt their sentiments immensely. For instance, your family or friends who lost their baby to miscarriage, or some other sensitive issue.
9. Bottom Line – When To Announce Pregnancy?
In the end, it's your beautiful decision and it's your beautiful news, you can choose the date that best suits you. If you wish to announce it before the threshold, so be it. If you need a little more time, so be it!
After all, it's your precious moment and you are the best judge to decide. Embrace your moments. Take a deep breath and all will be good.
Related: HOW TO SLEEP DURING PREGNANCY
Share this article with your loved ones, it'd support me. Pin it on Pinterest, share it on Facebook, Do it! Do it! Do it! And yeah, happy pregnancy, congratulations. Ciao