I know you need a lot of ideas to play with your little monster as a first-time mom. The first year of the baby is always very important for parents. Because babies have to experience many physical, mental, social and emotional changes during the first year.
"Playing and connecting with our babies gets their brain development going," says Roni Cohen Leiderman, Ph.D., dean of the Mailman Segal Center for Human Development at Nova Southeastern University and co-author of Let's Play and Learn Together. "Our love, attention, time, and touch with our baby are the most important parts of developmental activities. Everything is underlined with parent-child interaction."
Home is the first school for your baby and mother is the first teacher. Obviously she always wondering the best ways that encourage baby's growth. So, let's start to play with your baby below is the list:-
Related Topics:-
HOW TO PLAY WITH YOUR 6-12-MONTH-OLD BABY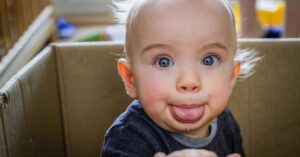 Make silly faces at your baby. The baby will try to imitate you while making good sounds of giggles. This one is the very first lesson that baby learns easily. You must try this!
Dancing and singing is the best part of the baby play. Hold your baby in the arms. Dance with him with slow music.
Play peek-a-boo with the help of a blanket or towel, or with your own hands. Or with anything presently you have that can duck behind.
Reading books I mean a lot of books regularly. Point out the pictures while reading. Make a scene with changing voice and facial expressions. Encourage your little one to join you. He must touch the pictures or surprise and turns the pages.
Sing a funny song. Try to make rhyme yourself. Take the help by youtube. Have fun with it.
You must enjoy the Patty Cake game with your loving one.
Create an amazing discovery basket. Don't worry I'll suggest the discovery box items there 100 of ideas.
Keep a basket with toys in front of your baby. let him what he wants to do. Is he trying to empty the basket? Don't worry about the messy floor. This is a fine game to recognize different items.
Practice walking. Mostly babies try to walk only when they are only 8 or 9 months old. They trying to hold anything nearby them like table chairs or a cot. Only you have to keep an eye for his safety.
10. Create a baby drop box at home all DIY. Keep a few plastic cubes of different colors and sizes. Your baby love to drop the cubes inside the box.
Talk with your baby in different sounds like talk low, high, happy or sad. Figure out how your baby is reacting?
Wrap your baby in a sling and go for a walk. Baby loves to roam in the fresh air.
Play with edible playdough. You'll love the recipe here.
Hexagon Pop Up Ball Pit Tent with 100 different color balls helps your baby to know about different colors.
Find some window cling and put a few interesting things on it. Baby will love to explore what you put on the sling.
Make an edible rainbow spaghetti and let baby eat it.
The sensory bin is the best way to play with the baby you can grab here.
Play with food. It may be messy. But your baby enjoys a lot. Make sure the foods are safe for the baby.
Play hide and seek with your baby. He loves to hide behind a curtain or run into the next room. You pretend to find him.
A baby bath is another great way to play with your baby. Talk to him while giving a bath. Gently massage and mild water are great for the baby.
Babies love mirrors and reflections. You can stand with the baby in front of the bathroom mirror. The floor mirror is the best for your baby. You can grab it here.
Make a drum with the help of a steel spoon and a bowl. Show baby how to beat the spoon on the bowl.
Keep a few bouncing balls in the room. The baby loves to watch bouncing balls.
These are great ways to play with your 6-12-month-old baby. Babies always love to play with their parents all day. They always want your affection and care. These ideas help in the development of your baby. I know all moms create their own ideas to play with the baby. If you have a few interesting ideas then share in the comment box.