Can you imagine chewing food without teeth like a 100 years old grandma! No, not at all! It's very difficult to eat anything without teeth. And the same goes for our babies no-teeth-no-food. As you know better without food how could we survive on the earth? Yes, you are right, we can't survive. Food for babies is very important.
Now, babies are small and are fully dependent on your breastmilk. But what after six or seven months? When the baby will need something more than your boobs. With their body growing, their hunger will also continue to grow. And soon just breastmilk won't be enough!
Definitely, you will look for what is to be given to the baby that they can eat without teeth. Luckily there are 100 of the first food for babies that can be eaten without teeth.
This is proof that all we chew food with molars and premolars. Mostly, teeth enhance the beauty of the face when we laugh. The first molars show up between 13 to 19 months old. Below is the clip chart for the teeth:-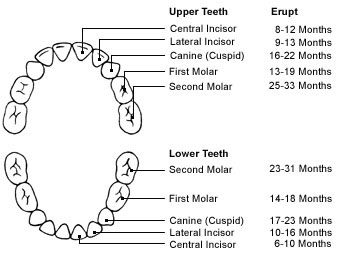 Actually, there is no need for teeth, babies already know how to chew with gums, as they continue chewing their own fingers, and sometimes your nipples. These baby foods not only fill your baby's stomach but also provide all the necessary nutrition to grow.
Related Topics:-
90+First Food For Babies That Can Be Eaten With No Teeth
Fruits & Veggies and Non-vegetarian First Food for Babies
Avocado-serve mashed avocado with an egg on top, can be served on the toast or slice it according to age.
Banana- The first choice of almost all mothers as bananas are not only sweet but also soft to eat.
Apricot
Tomato
Peach-ripe peach is soft and liked by babies
Mango-There is nothing best than the mangoes
The strawberry-remove leafy part before giving it to the baby
Watermelon-Without efforts melt in the mouth but remove the seed
Pear-If you feel it hard jut bake it in the oven for few minutes
Apple-Peel it, shred it on a grater
Muskmelon
Honeydew Melon
Carrot-Steam, bake or boil to make it soft
Cauliflower
Broccoli
Potato
Sweet Potato
Pumpkin-Bake it to make soft
Zucchini-Boil it
Beetroot
Oranges
Butternut Squash (cooked)
Blackberries
Raspberries
Plums
Satsumas
Grapes
Kiwi
Naan
Asparagus
Cucumber
Rice Cakes
Polenta
Strips of butter toast
Pics of Cheese
Oat, banana and raisin fingers
Veggie fritters
Roasted veggie kebabs
Pita Pizza
Chopped Hard-Boiled Egg
Unsalted Bread Sticks
Chickpea Patties
Corn
Pickles
Prunes
Turnip
Figs
Coconut
Pineapple
Dates
Cooked apples stuffed with sweet potato
Leeks
Olives-Make it less salty by keeping in water
Papaya
Bell pepper baked or boiled
Onion baked or boiled
Lentils make soup or stews
Pomelo
Passion Fruit
Yam cook like we cook sweet potato
Nectarine
Ugli fruit
Plantains-Cook them
Satsumas
Cantaloupe
Spinach and Ricotta Pie
Bread
Rice puddings
Porridge fingers
Pasta Macaroni
Noodles
Homemade Pizza
Tortillas
Focaccia
Chapatti fingers(Flat Bread)
Boiled eggs
Poached eggs
fried eggs
Omelet
Crab-If y9ur kid has no any allergy with seafood
Chicken
Mincemeat
Steak
Haddock
Salmon-Baked in oven
Cod-Baked same as salmon
Brussel sprouts-Steamed or boiled
Edamame-Boiled or steamed
I hope this first baby food list for the baby helps and you would try a few of them. Love to hear what you made and which foods your little one likes the most! Let me know in the comment box.