Want to Potty Training Your Boy? 6 Potty Training Mistakes You'll Definitely Want to Avoid? How? Let's discuss this with the topic?
I know it's very confusing and tiresome days out if you're the mom of a naughty boy! A boy who always loves to mess, he loves to chase bad guys, make mud pies, jump in puddles, play with a lot of stray animals, and now you're going to start a Potty Training!
Definitely, you'll make one of these potty training mistakes! I know it's going to be a difficult task for a mom of a boy who's super messy!
Maybe it's because he has a natural love for messes and now potty training to your boy means slaying a giant diaper-wearing monkey! But don't fret, I'm going to share my own experience with you. You have to avoid these potty training mistakes to go through your training process smooth and easy.
10 POTTY TRAINING MISTAKES
Mistake #1: Don't be unrealistic
---
Try to forget those rules you've always heard like "girls are easier than boys", Toddler should be trained before two" or using cloth diapers will help them potty train early".
Be careful before making any guidelines for potty training a stubborn boy. Because if your boy completely denies the guidelines, you must become frustrated and angry. As you might be setting yourself up for quite a letdown when your boys don't fall in line.
So don't be unrealistic, begin with cool behavior, reasonable, realistic expectations, and be flexible while setting goals for your boy. If he trained fast and easy according to you, it's cool! (good luck to you). If not, at least you won't be angry and think something is wrong with your child.
Related Posts:-
Mistake #2: Starting Too Soon
---
If one of your so-called friends announces to everyone that her daughter is not yet two years old but is completely potty trained even she is dry at night, that means the girl is a potty prodigy! Isn't it?
Now you begin to scratch your head, " How this is possible? What's wrong with my boy? Why he doesn't show any interest in the potty?"
Don't think so, today only 50 percent of children complete potty training by the age of 3 years. According to The American Academy of Family Physicians says that healthy kids have the skills to start potty training between 18 to 30 months of age, but they also point out that you should wait until your boy is ready for training.
Simple instead of focusing on age focus on your boy's readiness and eagerness about training. Below are a few questions to ask yourself:-
Does boy copy what mom and dad do?
Is your kid show any interest in the toilet, his potty, or wearing big boy's underwear?
Can he follow your rules?
Does his bowel movements pretty regular? or he tell you when he has a bowel movement?
Often he pulls his wet diaper?
can he independently walk to and from the toilet?
If your answer is YES for the maximum of these questions, then your son can start the training process. Before getting started to make sure that his bowel movements are enough healthy means he hasn't any kind of diarrhea or constipation.
Mistake #3: Hopes on advice
---
Be prepared for a lot of ideas when you share in your friend circle that you're going to potty training your innocent child. You get advice like:
Diaper free time is the best way to go
candies and toys bribes
Involve your child to help clean up the messes
Buying them special underwears
a fun potty for him
These factors worked well for them. But it's not necessary these could be better for you because every child is different and there's not really a one-size-fits-all formula to potty training. If you think so, then it's one kind of potty training mistake you're going to commit.
Mothers always invented new ideas for their little monster for potty training. Hats off to them. They are engaging a pretty time to discover new approaches for potty training. And this is the key to becoming successful towards your big goal of training.
Taking advice is not bad but you have to try out these ideas are not sure solutions to the problem. It just only you who will come up with the perfect answer. Try these ideas, maybe you discover your own idea! So, don't place too much hope on other parents' methods. You'll get more frustrated if these do not work for you.
Mistake #4: Don't buy too much stuff for potty training
---
As I clear already, you won't know what's the best working for you until you have allowed time for trial and error. It's not necessary that buying a variety of colorful underwear works better. Many parents complain that their child had so many accidents while wearing big boy underwear.
One of my friends told me that she bought a musical potty for her boy when he sits on it, potty played a piece of music. But both her kids were afraid of that potty and refused to sit on it. Total wastage of money and time. She used to sell it and get a very low price for it.
Mistake #5: Not involving daddy
---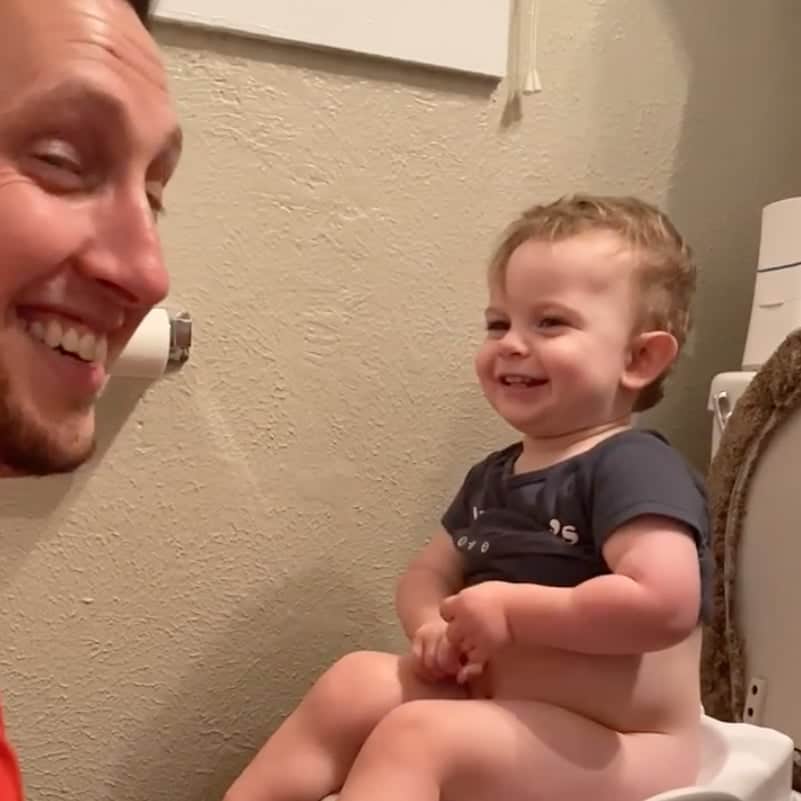 You know boys are great fans of their own daddy. Do they always try what their father does? It's the perfect idea to involve your spouse to take full advantage of daddy's superhero image.
Not involving your hubby in training is a kind of big potty training mistake! So why not let daddy involve in the training.
Let your little boy watch daddy go potty. Then sit him right next to daddy by giving him a cartoon book or a toy mobile so he can really get interested in the training. Make your training a funny one not frustrated. He must learn with fun.
Daddy's praising words play a vital role. When he says good job son, your boy had a smile on his face. Your efforts help him to get out of wet diapers.
Mistake #6: Losing patience
---
Your little monster may take a little longer. He can mess right on the floor. Your boy will hide when it's time to go to the potty. You know what my nephew does while potty! When my sister told me I just laugh out loud. He uses his potty to write the alphabets on the bathroom walls!
My boy liked to sit for an hour on the potty seat and always had an accident while walking out of the bathroom. (he just pretended to fall down). Many kids spray the bathroom walls, furniture and create a lot of laundries. But its time to keep a lot of patience in advance. Try not to lose temper.
Mistake #7: Not Being consistent
---
The last and most important potty training mistakes are not being consistent. That's cool you had tried with all weapons like potty chairs, books, bribes, candies, toys, and wonderful undies.
But you know the most powerful weapon in battling potty training is consistency. Some parents are tired pretty after trying all the tools. That's one of the great potty training mistakes.
According to parenting expert Justin Coulson, Ph.D. routine gives little ones a sense of security in knowing that there are predictability and certainty in their lives.
The piece of advice: Once you ditch the diaper then don't give up and finish the line. Make your possible efforts to win the battle with your little monster.
End Point:
What is your strategy for potty training that can help moms better? Please share it in the comment box. Your experience will help new moms.
Save the graphics for later use: