Cute Bathing Suits that cover stretch marks and belly pooch after the birth process and breastfeeding.
Yeah, the right topic for new moms who are looking for a few best swimsuits that cover stretch marks and postpartum stomach. These stretch marks and belly pooch are the rewards of the birth process. It takes pretty time and effort to get rid of these all you've recently earned!
Related Post: Your Post-Baby Belly, How To Tone It?
Let's talk about the truth, not all mom bodies remain the same before or after having a baby. It's not a joke to grow a human body for 40+weeks inside you. A few changes are natural for the mom's body.
I'm damn sure other moms also have such stretch marks on thighs, chest, and on belly. But you know these stretch marks can be prevented while pregnancy, how? Here is a topic related to how to prevent stretch marks?
Related Post: How To PREVENT Stretch Marks?
Absolutely, all women want to look gorgeous when they are in swimsuits! No matter if you're a new mom with lots of stretch marks and postpartum stomachs! No matter if you gained a pretty weight while breastfeeding! But breastfeeding also benefited mothers!
You're the best creation of the God who nourishes the human being within her body and with her own milk.
Stretch marks from pregnancy and breastfeeding is not a thing to hide from the public. There's nothing to feel ashamed or embarrassed about. You feel the pride of having these because you're a warrior that gives birth to a human being.
But if you're a shy nature and you feel more confident with your swimsuits than I have great options for you. These are the best swimsuit to hide tummy and enjoy your swimming with confidence.
Swim Suits That Cover Stomach, Stretch Marks And Postpartum Body
1.Tankinis
These are the best mom bathing suits to hide all stretch marks. Many women like to wear bikinis without worrying of stretch marks. Choices are yours. These are the best bikiise that cover belly and weird belly button.
Amazon has a wide range of gorgeous tankinis. You make your own choice. These tankinis are best for:-
Tummy control
It gives the illusion of a one-piece
Higher rise bottoms cover the risk of not showing tummy when lifting the arms.
2. Control Swimwear
you like the control swimwear. As these are the best postpartum swimwear with ruching. Ruching helps to camouflage all on your belly. After wearing these you get comments "you don't look like you have two babies".
This bathing suit has awesome features like:-
Its fabric is smooth and elastically
It designed with soft wire-free molded cups
Special swimsuits for mom belly with adjustable shoulder straps
Its chic color is perfect for vacations, beach, and pool.
This one-piece bathing suits have a variety of color and size to choose easily
Try it, you must feel great. Asos has a ton of colors you make a great choice here!
3. One-Pieces-Becca Crochet bathing suits for stretch marks
A sigh of peace for having one-piece swimsuits are back in style again. Mostly, women like to wear them. One of them is Becca Crochet!
This swimsuit has flirty high-neck crafted with intricate lacy crochet conceal and reveals with sheer insets and an open low-cut back. Below are the amazing details. I like this mom bathing suit as it shows less skin. It is best swim suit to hide tummy bulge.
With moderate back coverage
Ties are in the back
Having adjustable straps
Gorgeous color range
4. Floral Print Cutout One-piece High neck Post Pregnancy Bathing Suit
I love the product's fun pattern, the cutout, and amazing color. You can get it in every size. this one like a bikini that cover stomach. It's amazing one piece swimsuit to hide tummy. This bathing suit has amazing benefits:-
Cutout at the side makes this swimsuit unique, stylish, and attractive. This swim suit is modest not sexy.
Its fabric is smooth. durable. soft and is very stretchy
This swim suit is perfect for plus size women as it is super stretchable
5. Miraclesuit One-piece Swimwear
This one is best swimsuits for muffin tops, full tummy control and support. This suit is perfect to hide post-baby belly. Its mesh side cutouts and flattering crisis cross fabric on the front side make it stylish and fashionable.
You can make your own choice here.
6. The One-shoulder one-piece cute Swimsuits to hide belly pooch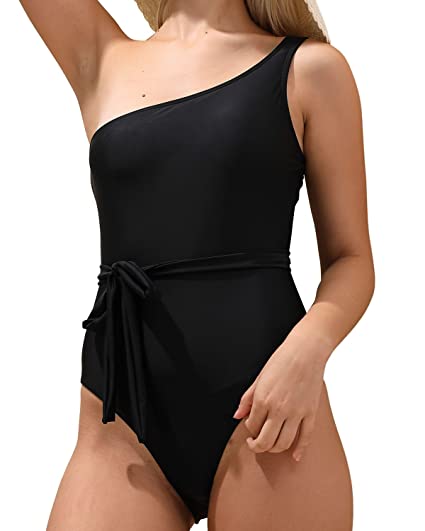 You must fall in love with this item! The one-shoulder stretchy bathing suit. It gives a sexy look, matches with a left tie-side, simple and chic color. It has removable soft pads that added good support.
It's lightweight, stretch fabric, dried quickly, and retains its shape. It is best for pool play, beach party loved by all sexy women. One of the best swimsuits to hide belly pooch.
7. Off-shoulder one-piece swim dress
You must love this unique off shoulder one-piece swimsuit. Its soft & stretchy material feels magic on the skin. This one is the best post baby swimsuits that's strapless, overlay, stylish swimsuit with no-padded. It is perfect for any type of party, day, night, beach pool anywhere anytime! The best bathing suits for new moms.
You can purchase this gorgeous swimwear here with a lot of colors and range.
8. Active Tankini
Here's a great option for Active Tankini via amazon The cute bathing suit for a fun, sporty twist. Its low rise bottom provide moderate coverage. You can get it any size. The high-quality sportswear fabric ensures to holds its shape in water. No need to worry about bathing. The stylish and fashoinable postpartum bathing suits for new moms.
9. One-shoulder Two-piece High Waisted Swimsuit
This one-shoulder tankini is great for all sizes. If you're a fashionable woman and love to wear a uniquely stylish piece of swimsuit. This classic tankini is best for you. The features are as below:-
This classic one-shoulder bikini is perfect for beach, pool, cruise, vacation or wherever you want to wear
It is two pieces swimsuit, with fine wavy edge one shoulder design
These all cute bathing suits are my favorite! You can try one of your choices. All of these bathing suits are great option to hide stretch marks, belly pooch and what you want to hide.