These 20 Stunning Water Maternity Photos Concept Will Make Your Pregnancy Extraordinary!
We usually see maternity photography shoots outdoors, indoors, in woods and fields, or at home in different poses and dresses. In most maternity shoots, couples often follow up the same poses—either posing with their hubby's hands on their belly or exposing their baby bump within the maternity clothes. However, have you ever thought of capturing these beautiful moments with an underwater maternity photoshoot? or a beach maternity photoshoot!
Surely, Water Maternity Shoot will give you the beautiful feeling of floating weightlessly and carelessly with open arms, similar to your baby in the womb. Do you know— that only an efficient photographer can take your underwater maternity photoshoot to the next level efficiently? 
Similar to Adam Opris's Portraits maternity photography— Adam is an outstanding photographer who belongs to Palm Beach, Florida. 
What Adam Opris says,
"I grew up in South Florida in the ocean, and being in the water has always been second nature for me. As my wedding photography business progressed, I always loved how the brides I captured came to me for their maternity pictures after getting pregnant.
Subsequently, I realized that I could bring clients into this underwater world. After a few test shoots, I came to the conclusion that underwater options are limitless."
Adam tests these limits with his keen photography observations and makes it possible to shoot underwater. 
Adam Opris Wonderful Maternity Photoshoot Underwater
You will enjoy his exemplary art and beyond-imagination maternity photos underwater— Adam will convert your pregnancy photoshoot into a glorifying adventure. 
Below are the best photos of his art that will make you feel like you're floating in the wondrous oceanic world with your soon-to-be baby. They will also inspire you to click some of the most beautiful pictures of your life with your baby bump. 
Water makes the pregnant mom more relaxed—you don't need a fluffy bed because the water pool provides all the comfort to your bump. 
Maternity Water Pictures 
Here are 20 oceanic-a-adventure maternity photos and beach dress ideas that you'll gaze at for many coming years of your life. These pictures will remind you of your pregnancy life, and make you happy for all efforts you put into it. 
1. Under maternity shoot idea in heels
How do you feel seeing this pregnant mom relaxing on the ocean bed with closed eyes? Just observe her— she's feeling more comfortable floating her bump in the water.
Further, I love her heels and the dress she wears! It's one of the most stunning Underwater Maternity Photos clicked by Adam. I just love this guy who makes underwater maternity photoshoots so comforting and beautiful!
2. Red mermaid shoot— Red dress water maternity photos
Credit: https://www.adamoprisphoto.com/
The best posture ever! No worry, no stress, and no anxiety about the labor process. The mom is enjoying herself and relaxing comfortably under the water bed. 
3. Water Maternity Shoot
Besides, her moments in the water are also captured in an upward reflection making this underwater maternity photo unique and very different! In addition, her dark red maternity dress looks majestic. I have added a link for extra large or plus size maternity dresses. 
4. Maternity Pictures In Water-Mom in glittering water
Mom looks pretty underwater, and the sun rays make this maternity photoshoot in water more beautiful. I love the sun rays on the water floor, making everything feel warm and soft.
Such stunning pictures get captured because the photographer knows the nuances of photography and has acquired his skill very well for doing maternity shoots.
5. Maternity photoshoot In water
Beautiful underwater maternity photo with pregnant mom's shadow on the water floor. What do you think?
The gorgeous mom acts like a mermaid and introduces her bump to the hubby. A captivating portrayal of a mother giving birth to a baby, and its father is there to welcome it with open arms.
Pregnancy Photoshoot In Water
I felt as if I might have come to the world of animation, as James Cameron showed in his animated movie Avatar—A Different World in the Lap of Nature! Opris is the best artist and knows how to make unique water maternity photos beautiful.
6. Unique Water Maternity Photos
A pregnant couple enjoying dance and assuming they are the natives of the fantastic ocean for a maternity shoot. I love the expressions on their faces.
Both look like angels in white outfits, making the pictures heavenly. The happiness on their faces and the artistic poses give a different feeling to Underwater Maternity Photos.
7. Baby, Mama, and Water maternity photoshoot
Capture the enchanting journey of motherhood with a captivating Baby, Mama, and Water maternity photoshoot. This ethereal session beautifully blends the serenity of water with the radiant glow of an expecting mother. Keep all the essential white photoshoots with you.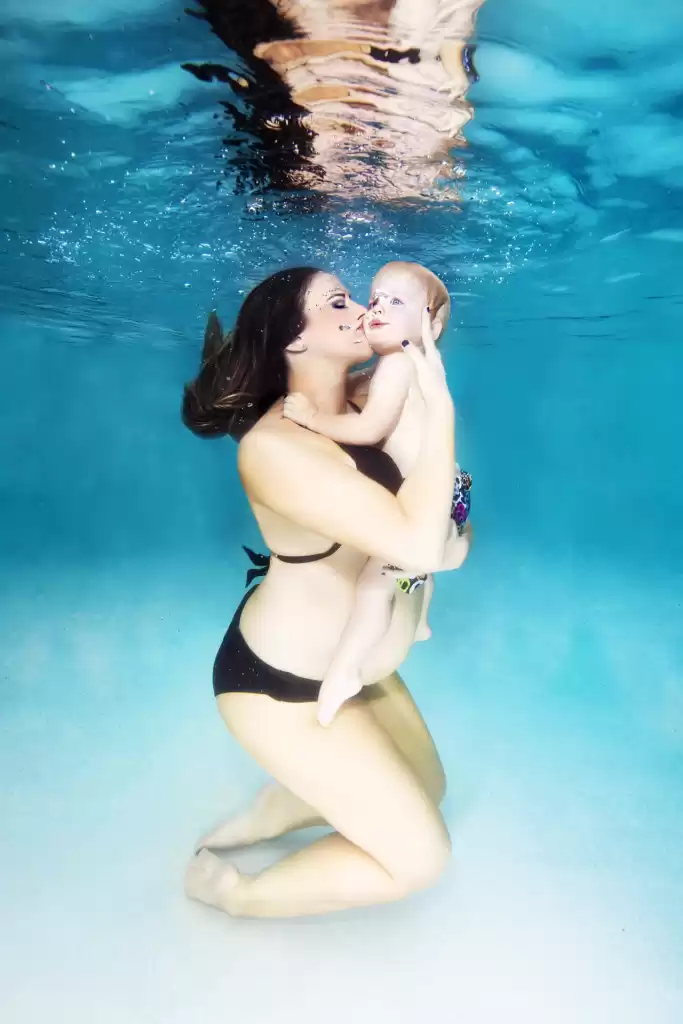 8. Water Pregnancy Photoshoot
How does she look so smoothly floating underwater? OMG, she looks like a Greek Goddess in this picture. Her white maternity outfit and rose make her look outstanding in the water! This maternity water photoshoot idea is for every mom-to-be who wants to lock beautiful memories of the pregnancy period in her memory.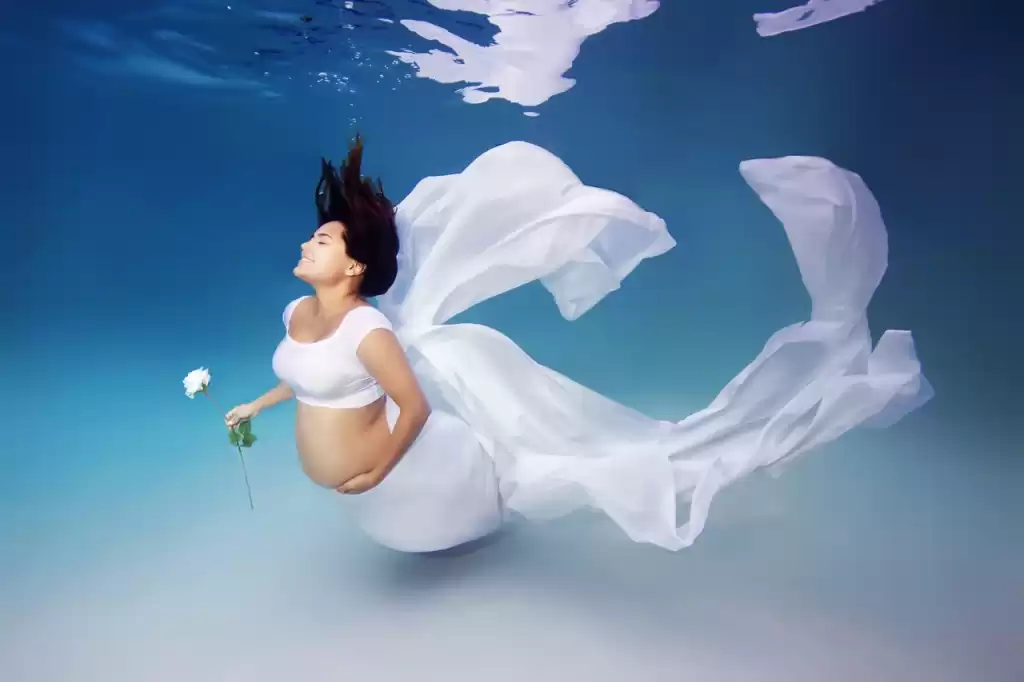 9. Underwater Photoshoot
This is a beautiful example of awesome underwater maternity photos. In this photo, the mother has taken the reins of water into her own hands. She swims in the water without any stress or anxiety. Mom should be living all three trimesters as she looks in this photo—calm and relaxed.
10. Water Maternity Shoot-Sunflower in the Ocean
The mom-to-be looks magical in this yellow maternity gown. Her waving lap and the smile on her face made this photoshoot an ethereal beauty. The pregnancy journey is the time when you want to capture every single moment on camera.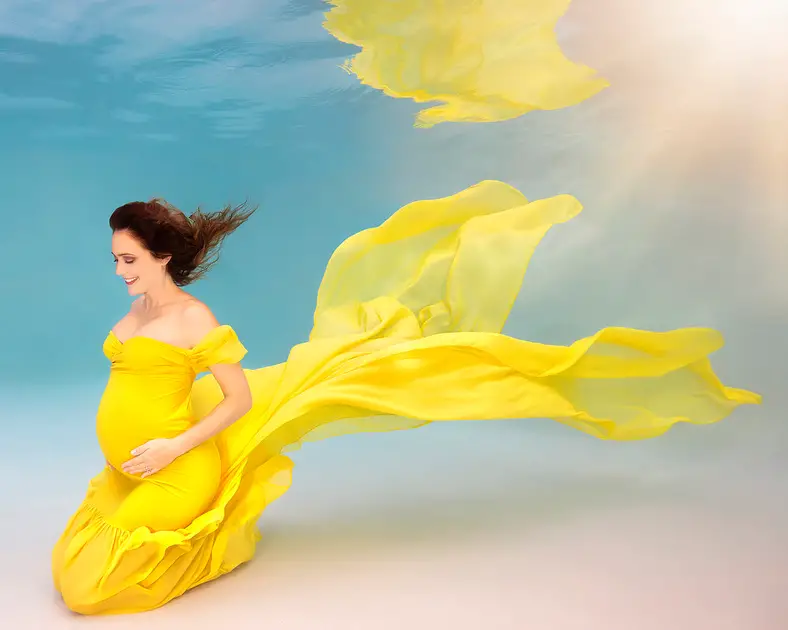 Every mom wants to share these unforgettable moments with their children in the future. A water shoot is the best way to describe your internal beauty with a baby bump.
11. Water Maternity Photos
Morticia and Gomez from the movie The Addams Family masterpiece in black maternity dress by Adam Opris! The pregnant couple shows their love beautifully underwater. The color combination for this shoot is incredible! I just remembered the movie Twilight, as the same photo describes a spiritual feeling. 
12. Pregnancy Photoshoot Underwater
Water Lilies – great picture of the artist with superb expressions on the couple's faces! The happiness of becoming parents is clearly popping up on their faces. Being underwater for a maternity shoot, they're enjoying moments of being soon-to-be parents.
You should give this underwater maternity shoot a try with your husband and rock your maternity pictures. All ladies in your family will talk about your shoot for years to come!
13. Pool Maternity Shoot
An incredible pictures in this list of 20 best underwater maternity photoshoot ideas.
It reminds me of a beautiful dolphin swimming in blue water. While floating sometimes, dolphins go upwards of the water. In the same way, the mom-to-be is going upwards, and her floating wavy body looks exceptionally flexible in the water.
14. Walking like a faerie – Underwater Maternity Photoshoot
Mother walks comfortably inside the water, holding her baby bump. We can't even see her face in the pictures; perhaps, she is enjoying both spheres. Her white scarf is floating like a cloud in the water, and her baby bump looks magnificent.
15. The water queen— Maternity Water Photoshoot
Truly, it is nothing less than a dream come true: a mother with an eight-month-old bump swimming and giving poses for a maternity photoshoot underwater with her eyes closed and with utmost carelessness. She may be feeling so relaxed while looking pretty in her red dress. Anyone can dream of this adventure maternity ride!
Maternity Photoshoot Ideas In Water
There are many shades of Mom rising within the water, but darkness and red make this portrait very unique.
16. Floating Maternity Shoot
Both float towards the beauty of life.
17. Water River Maternity Photoa
I can't take my eyes off this picture. What beautiful moments the photographer has captured! Pregnant parents are having fun; look how much they are doing underwater.
Their wavy hair, the jumping water, and the shadows within the water—everything looks pretty. When this water pregnancy photoshoot happened, the weather was charming on that day. Because dark clouds are visible in the sky above, doubling their enthusiasm.
18. Life Beyond Earth— Underwater Maternity Photography
This photo looks like a world of clouds, not water. In the meanwhile, the mother-to-be raises both hands, praying to God Sun for the well-being of her child.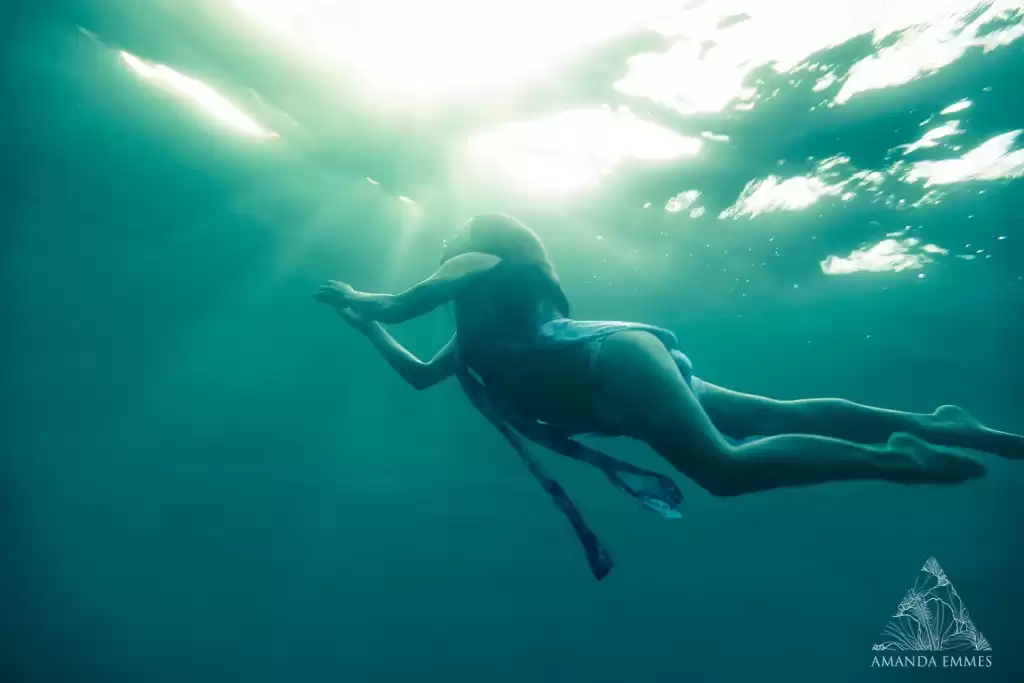 19. Fierce mom underwater
It looks like the mother is trying to introduce her unborn child to the water kingdom. Next the water level and the trees around it are swaying happily.
20. Mother cozy womb— Water maternity photography Ideas
The photographer took this photo at night, and it reminds me of sonography where an infant was swimming in the womb. The mom also freely swam in the water.
Some more beautiful Water maternity photos.
Maternity Photoshoot Ideas
She looks looking a beautiful Betta fish in a neon orange maternity outfit. Stunning underwater maternity photo by Moreland Photography.
I am shocked to see the courage of these mothers! How do they do maternity photoshoots with 8th or 9th months baby bump belly and that too happily?
It is the final stage of labor pain, and most moms feel exhausted. But when it comes to maternity photoshoots underwater, the mothers forget all troubles and get ready like water fairies.