Spectra introduced two breast pump spectra S1 vs S2. These breast pumps are the best way to stash a good amount of breast milk for bottle feeding and weaning. What are the main differences between two breast pump spectra s1 vs s2, which one is perfect for you? Here is the detailed article about Spectra S1 Vs S2 breast pump.
It helps you to find the best one for you, which spectra breast pump S1 vs S2 extract more milk through suction, and the methods can either be manual or electronic while using spectra s1 and s2 breast pump!
What features should you keep in mind while choosing the right breast pump for you?
Spectra pumps are well known for exclusive pumping. The Spectra breast pump s1 vs s2 performance is very much similar to how a child breastfeeds in the natural flow. Hence, it is the number one choice for mothers, in the office, at home, or perhaps at a party.
Furthermore, Spectra subdivides its product into two categories—spectra breast pump S1 vs S2 spectra, both with distinctive features that we'll broadly discuss further in this article.
Now it's important to choose the right breast pump in hand. To all new mothers, a pumping session is very efficient in keeping your breast milk supply intact. Don't forget to use a perfect pumping bra for easy pumping.
It doesn't matter if you're a working mom, a freelancer, or a housewife, a Spectra breast pump is a great tool to have with you! However, you must know the difference between breast pump spectra s1 vs s2!
What is the Difference between breast pump spectra s2 vs s1?
The main difference between spectra s1 vs s2 breast pumps is that the Spectra S1 has a built-in rechargeable battery, while the Spectra S2 needs to be plugged into an electrical outlet to function.
Here is a quick guide that helps you to find spectra comparison s1 and s2 easily. So let's dive into the topic.
Spectra S1 Breast Pumps
Spectra S1 is a closed pump system, and the electric pumps in these devices are designed to meet your sound-free demands of breast pumping. It comes in two colors—white and blue, with a power outlet, lights, and a rechargeable battery.
Many spectra S2 vs s1 features captivate mothers into buying this product, despite the high price. It is an easily portable pump, makes zero noise while functioning, and is automatic to use.
It comes with a built-in rechargeable battery, which is one of the features that attract mothers the most. You don't need to plug it in every time you pump.
This portable breast pump is light-weighted, hence, easy to carry in a breast pump bag. You can even tie it around your neck or on your waist.
Other breast pumps make a lot of noise while functioning, but this is made by one of the best breast pump brands. You experience your pumping sessions soundlessly. It even offers a massage and expression mode feature that will relax your breasts and facilitate a letdown.
Extra Features Of Spectra S1 Breast Pump:
An auto timer is useful to know when you will stop pumping.
A backlight, allows you to see the pump settings in the dark at night.
It has adjustable suction power control like a hospital-grade pump.
This pump also keeps a record of how many hours you have pumped milk.
Two years warranty from date of purchase.
Spectra 1 how to use it?
Using the Spectra 1 breast pump is simple and straightforward. Begin by assembling the pump according to the manufacturer's instructions.
Next, ensure that the pump is properly charged or plugged in. Position the breast shield over your breast and turn on the pump.
Adjust the suction and cycle settings to your comfort level. Once you're finished pumping, turn off the pump and disassemble it for cleaning.
How to setting up spectra s1?
here are the settings of the Spectra S1 breast pump:
Suction Strength: This setting determines the strength of the vacuum pressure applied to your breast. It can be adjusted from level 1 to level 12.
Cycle Speed: This setting controls the speed of the suction, which can be adjusted from 38 to 54 cycles per minute.
Massage Mode: This setting stimulates letdown by rapidly cycling between suction and release.
Expression Mode: This setting maintains a steady suction rhythm to efficiently express milk.
Timer: This feature allows you to set a pumping time for convenience and to track the duration of your pumping session.
Nightlight: The Spectra S1 also has a built-in nightlight to make nighttime pumping easier.
Remember to start at a low setting and gradually increase suction strength until you find a comfortable level.
How many hours is a spectra s1 good for?
The Spectra S1 breast pump is designed to last for multiple pumping sessions on a single charge. It can typically be used for about 2 hours of pumping time before needing to be recharged.
The pump comes with a rechargeable battery, and it can be charged using the included AC adapter or a USB cable. Keep in mind that the battery life may vary depending on the suction and cycle settings used during pumping sessions.
It's always a good idea to charge the pump fully before each use to ensure that you have enough power for your entire pumping session.
How long does the Spectra s1 battery last?
The Spectra S1 breast pump comes with a rechargeable battery that can last for multiple pumping sessions on a single charge.
The battery life can vary depending on factors such as the suction strength and cycle settings used during pumping sessions.
Generally, the Spectra S1 battery can last for around 2 to 3 hours of pumping time before needing to be recharged. It's always a good idea to fully charge the pump before each use to ensure that you have enough power for your entire pumping session.
Additionally, if you plan on pumping for an extended period of time, you may want to consider bringing a portable charger or extra battery pack with you for backup power.
What is S1 spectra suction strength?
The Spectra S1 breast pump offers a wide range of suction strength options to choose from. The suction strength can be adjusted from level 1 to level 12, with level 1 being the lowest suction strength and level 12 being the highest suction strength.
This allows you to customize the pump's suction strength to your individual comfort level and milk expression needs. It's important to start at a low suction strength and gradually increase it until you find a comfortable level.
Keep in mind that a higher suction strength does not necessarily mean more milk expression, and using too high a suction strength can cause discomfort or even nipple damage.
Medela vs spectra s1
Both Medela and Spectra S1 are high-quality breast pumps that offer efficient milk expression. Here are some key differences between the two:
Suction Strength: The Spectra S1 offers a wider range of suction strength settings, with 12 levels compared to Medela's 9 levels.
Noise Level: The Spectra S1 is known for being quieter than the Medela, which can be important for discreet pumping sessions.
Portability: The Spectra S1 has a built-in rechargeable battery, making it easier to use on the go without needing an outlet. Medela pumps typically require an external battery pack or being plugged in.
Customization: The Spectra S1 has separate settings for massage mode and expression mode, while Medela pumps have a single "letdown" mode followed by a "expression" mode.
Spectra s1 plus vs s2 plus
The Spectra S1 Plus is an updated version of the original Spectra S1 breast pump, with a few key differences:
Appearance: The S1 Plus has a more streamlined and modern look compared to the original S1.
Charging: The S1 Plus features a USB-C charging port, which is more modern and faster than the charging port on the original S1.
Weight: The S1 Plus is slightly lighter than the original S1, making it even more portable.
Timer: The S1 Plus has an updated timer display that shows the time elapsed and the battery level.
Price: The S1 Plus is typically slightly more expensive than the original S1.
Spectra s1 vs s9
The Spectra S1 and S9 are both high-quality breast pumps from Spectra that offer efficient milk expression. Here are some key differences between the two:
Size: The Spectra S9 is smaller and more portable than the S1. It's designed to be lightweight and easy to carry, making it ideal for on-the-go pumping.
Battery: The S1 has a built-in rechargeable battery, while the S9 comes with a detachable battery pack. This means that the S1 is more convenient for pumping on the go, while the S9 offers more flexibility in terms of battery replacement.
Suction Strength: The S1 offers a wider range of suction strength settings, with 12 levels compared to the S9's 10 levels.
Noise Level: The S1 is known for being quieter than the S9, which can be important for discreet pumping sessions.
What is Spectra S2 Breast Pump?
Heidi Humphries, the founder of the dual pump, emphasized developing a quiet motor for these pumps, offering it all the popularity. The S2 pump comes with a closed system, so it doesn't require internal cleaning.
A closed system protects your pump and milk from bacterial infection with backflow protection. You don't need to worry about cleaning these pump parts or even replacing them unless you misplace the tubes.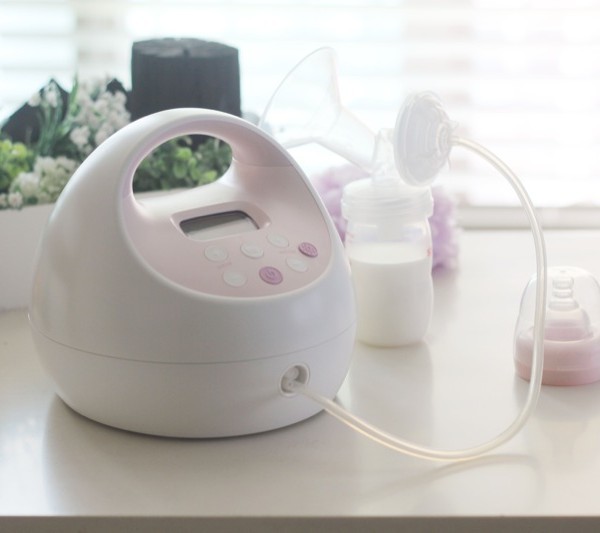 Spectra S2 expression and massage mode give mothers the utmost comfort that almost all other brands lack. While other pumping brands focus on hard suction. This focuses on the mother's comfort and natural adjustable suction levels to let down milk.
It also comes with an accessory kit that allows you to adjust the timer, suction strength, and expression according to your needs. In fact, Spectra S2 electric breast pump is enhanced with quality motors that only take half the time to completely empty your breasts simultaneously.
Spectra S2 breast pump is comparatively cheaper than S1, but its quality still stands top even with cost-efficient value for the S2 pumps. The features of S2 pumps are very much similar to S1 pumps.
Extra Features Of Spectra baby s2 pump are:
It is to be said that the Spectra s2 pump strength motor
Performance with maximum suction strength
S2 double electric breast pump can be used as a single pump or double pumping
This one is the best spectra breast pump that causes low noise that's good for sleeping baby
light in weight
Spectra wide-neck bottles are easy to use
BPA-free parts.
The suction can be adjustable in a let-down or expression.
Closed system pump.
You can set speed and rhythm
2-level built-in light.
Spectra S1 vs spectra S2
The models, Spectra S1 or S2 breast pumps are very much similar to each other. They both excel in building qualities and stand by their word of service. The only differences lie between their battery/plugin function and their prices.
#1. Battery-Plug in–Spectra
The Spectra S1 breast pump comes with a built-in battery whereas Spectra S2 Doesn't have a rechargeable battery feature. Spectra S1 comes with a rechargeable battery that lasts for 3 hours topmost. This feature allows Spectra S1 to be portable, move in and around, and be used anywhere, anytime, even without electricity.
If you are a working mother and constantly on the move, Spectra S1 would be a top priority product for you, because it provides you the freedom to move and work without any hindrance of the plug, wires, or switchboard.
#2. Price
Since Spectra Baby S1 comes with a battery that allows mothers to move around while pumping, its price elevates with its features. Spectra S1 costs you 200$ and while it might seem expensive at first sight, this is worth every dollar.
On the other hand, the no-battery Spectra S2 costs you 150$ at Amazon (on discount) and 160$ (Free shipping) on the official website —Spectra Baby USA.
Spectra bay USA is dedicated to helping new moms regarding their journey to breastfeeding and pumping. Through the official website of spectra baby usa you come to know how to use these pumps comfortably.
Your s1 Spectra Package comes with multiple items, it is not the only item you receive in the package. The items included are:
Two Spectra Breast Flanges (24mm)
28mm Spectra Breast Flanges (Two in quantity)
Two Spectra Tubing
Spectra Duckbill Valves (Two in quantity)
Two Spectra Backflow Protectors. This includes an uppercase, lower case for each, and a silicone membrane
2 Spectra Neck Storage Bottles including bottle nipple, cap, disc, bottle sterilizer, lid, and electrical outlet for each bottle.
One Spectra 12-Volt AC Power Adapter
Spectra S2 vs S1—Similarities And Features about spectra s1 versus s2
As discussed, there are many similarities between Spectra vs Spectra 2. Let's start difference between spectra 1 vs 2 one by one.
#1. Spectra Hospital Grade
Most moms doubt the quality of each product that the hospital provides them for all good reasons. A breast pump is one such thing that cannot be compromised for its quality.
Hospitals use pumps that work more efficiently to produce and maintain a good amount of milk supply for mothers who cannot produce enough stimulation for milk production.
Thus, hospital-grade pumps are the best option that you can opt for. Spectra breast pump's quality falls under the A-list Hospital-grade pumps. Another valuable quality of hospital-grade pumps is that they can be rented once you are done using them.
Spectra Pump's backflow protection doesn't allow the milk to reach the pump itself, hence keeping it safe from mold and bacteria. This quality can help you forward the pump to another mother without worrying because it has disease control ability.
#2. Manual Customization.
Unlike other breast-pumping products, these provide you the luxury to select the settings according to your needs. Furthermore, every setting that you wish to change has a different controller.
Both the Spectra S1 pump and Spectra S2 Pump have a speed controller, suction optimizer, let down mode, a power button, and night light. Note to self, light consumes a lot of battery, so if you don't need it, don't switch it on. Instead prefer house night lights to save your Spectra S1 Pumps battery.
There are 12 levels of suction and mothers only often need 1-2 levels of it. More to more, there always is a suction level for your express needs. Expression or let down mode turns on the massage which stimulates a natural baby suckle, giving mothers comfort and relaxation while pumping.
When you turn on the Spectra breast pump and switch the settings to let-down mode, you can adjust the massage setting. There are 5 levels you can choose from, and the cycle speed is kept at 70 cycles/minute.
#3. Powerful Motor
Mothers comment on their amusement over Spectra S1 and S2's motor very fondly. I read a comment a few weeks back that said,
'It feels just like my baby's suckle and I'm no longer wincing in pain during my long pumping sessions. How they can make the suction so strong yet so comfortable is beyond me – but more power to them!'
Spectra pumps speed up to 250 mmHg. This powerful motor can reduce your pumping session to half its time and won't even discomfort you along the line. Both Spectra S1 and S2 have powerful motors that other brands lack.
#4. BPA Free Qualities
Studies suggest that BPA in low quantity is not a health risk to your baby. Nonetheless, it still is a healthy choice to keep your baby away from products that are not for human consumption.
BPA stands for Bisphenol-A. It is found in plastics but was banned from baby bottles on the assumption that it might get fused with breast milk or baby food and affect your baby's health. The main difference between s1 and s2 both are free of BPA-free.
#5. Accessories
Spectra S1 and S2 pumps come with multiple accessories that support and facilitate a powerful pumping session as a hospital-grade breast pump does. These items include pump parts like valves, tubes, flanges, neck lid, adapter, a power outlet, etc.
A few months back, getting Spectra pump's parts was a tough deal but now you can easily find them at their own website—spectra baby USA. You can also use other product parts with the Spectra pump, as they easily adjust to each other.
#6. Single And Double Electric Breast Pump
It's pretty simple to change your spectra pump from a single pump session to a double pump session. A single breast pump session means when you only extract/pump milk from a single breast.
A double breast pump session is when you double-pump your breasts at the same time. All you need to do is remove the small cap present at the belly of the pump. Connect one end of the tube to that cap and another end to the backflow protector, which is connected to the second pumping bottle.
It is a great option for working mothers or for mothers who are short on time. You can easily reduce your session by half with two pumps working at the same time.
Possible drawbacks and differences in the S1 vs S2 Spectra
With its many features, is spectra s1 or s2 better? Spectra S1 and Spectra S2 pumps do have a few possible drawbacks or cons in their quality. Spectra S1 and Spectra S2 lack in a variety of flange sizes, and mode settings, and are heavier in size.
#1. Expression mode settings in spectra s2 vs s1
Expression or letdown mode is one of the major features that spectra pumps are known for, but they lack a few settings. For example, if you leave your pump's suction mode at level 11, it will remain on the same level when you restart.
Mothers who are unfamiliar with these settings might startle by the sudden force expression extracts on the nipples. Nonetheless, you can always reset the settings and get back to the initial readings of the device, before pumping.
#2. Heavier size of Spectra S1 Vs Spectra S2
Both Spectra S1 vs Spectra S2 do not differ a lot in size. In fact, the latest versions of these pumps are similar in size, both weighing 2.9 lbs. Other brands are lighter in weight and smaller in size, making themselves easy to carry.
Spectra s1 or s2 – decide which one is perfect for you
If you have chosen either Spectra S1 or Spectra S2, you must have many demands from your breast pump, because these pumps happen to be the most high-tech inventions. These pumps solve the problem of low milk supply with their exclusive pumping quality.
#1. Motor Strength
Before everything comes the main purpose of the electric breast pump—let down, emptying of breasts, and proper suction. If the machine fails to pump out the milk for you, what good is it for? The foremost thing to look out for is the motor stability of the machine.
Mothers who need extra effort to extract milk should not skip this search. Spectra breast pumps are great pumps that give a string motor electrical outlet without any discomfort.
#2. Rechargeable Battery Or Built-in Battery
A cheaper price might seem convenient for your budget but it will risk every action of yours at your home and in your office. Plugging in your pump for minutes will seize you from any further action.
So, if you don't have a nanny with you at home or someone who can lend a hand while you are pumping through a plug. It's best to spend a little more and buy a pump built-in battery that is accustomed to a rechargeable battery.
However, if you have any support at home that will allow you free hours of rest, the S2 pump is great for you. If you have people to look after your baby and your house, it's best to save a little money and relax with the plug for a little while. No need for a rechargeable battery or a built-in battery option!
#3. Noise
The Spectra pumps offer you soundless hours/minutes at the office, at night, with your baby. Other products have a very loud sound of the functioning pump that disturbs your family time, your baby's sleep, your family's sleep, and your own sleep.
You cannot use a loud scream at your office and thus, it's important that you choose a pump that is quiet and comfortable.
#4. If Your Insurance Covers it Or If It Doesn't!
At most, insurance companies give their own choice of product but you can change and revise the list with new products that you desire. So, consult with your insurance company before spending money and getting the wrong brand that is of no use to you.
Medela vs spectra 1 vs 2
This comparison is the most anticipated among mothers. 9 out of 10 mothers know and have used these pumps or its varied products. But is it worth the hype? Unfortunately, no.
While Medela breast pumps work best at the advertisement, they don't please mothers as much as Spectra pumps do. You can check out the comparison below for the same:
Features of Medela Pump
Medela pump—personal strength (240mmHg)
Two-phase expression tech with one-touch let-down
Medela freestyle Pump: Light Weight (3.3. lbs)
You may hear a distinct sound, not as discreet but still evident.
No night light or timer in Medela
Open system, no backflow protector
Features of Spectra pumps:
Spectra has hospital pumps' strength (270mmHg)
Two-phase expression mode and massage mode
It is heavier than Medela pumps (4.7 lbs)
These pumps are soundless and in fact soothing at use.
Pumps have night lights and timers
Closed system with backflow protector pump
Mothers Review On Spectra S1 vs spectra baby usa s2 specs
"Buy this pump. Seriously, stop looking, buy it. This review is long but will hopefully answer any questions you have. Or post one and I'll try to answer it."
"Wow. Just wow. Why did I not hear of this pump sooner? Comfortable, portable, lightweight, oh- and more than double the milk!! Seriously, it is almost a crime that the insurance companies just give out inferior pumps when this is available."
9. Additional Questions on comparing spectra breast pumps
We're still left with some questions too important to answer. We don't want to leave anything behind and keep you up-to-date on everything about breast pumps and spectra s1 vs s2.
Why is my pump not suctioning?
If you are facing trouble while suctioning or if you see a sudden drop at the suction rate, it's most probable that your pump's duck valve or valve membrane set is not properly attached to the breast shields or has fallen off.
You can find troubleshooting options on the official website in a detailed discussion of what measures you can take to restart your pump's suction.
Here's the link: Spectra Troubleshooting Guide
Spectra randomly turns off—What to do?
If you are having trouble with the power button or if it's not turning on. It could be that the real problem is in your adapter and how it is attached.
Spectra Insurance
As discussed above, you can consult with your insurance company and change specific details concerning your breast pump coverage. You will have to consult them before your baby's birth for all necessary paperwork.
Refer to the link, https://www.spectrababyusa.com/how-to-get-a-spectra-pump-through-insurance/ for more details on the insurance policy and how to get one.
Who should get the Spectra S1?
It's easily recharged and portable. It is quiet and incongruous for a gentle pumping experience. Further, its use can be as a single or double pump saving time. For active mothers, the S1 has a portable and quiet interior.
Extra features and spectra pump comparison
These pumps feature an LED display. Digital controls make things easier. Several are also equipped with night lighting for pumping momma. Spectra Baby spent a number of years developing features that gave women excellent breast-pumping sensations.