Black Maternity Photoshoot 
Pregnancy is the time when you experience many weird changes like hair fall, cravings for unusual food, swollen gums, mood swings and many more.
I think it is the best idea to document all these funny moments in camera. Here I have collected bold black maternity photoshoot poses for you. Because Black is beautiful and no color can overlap it.
Top 50 Maternity Photoshoot Ideas
Partnering with Sequénom. Photographing your pregnancy in photographs will help you document your lovely pregnancy belly. I know it doesn't seem to look pretty, but pregnancy photos may prove a perfect reason to dress up. Is it maternity photography that inspires your photos?
Tips, Poses, Outfits

Are there any other black couple pregnancy photography photos to look good in?
See this post about50 best picture images and posesthat can also be copied directly! Maternity photo shoots are very important.
Can I capture an important moment of my life in pictures?
The camera should take photographs of pregnant women. You can hire professional photographers to photograph your pregnancy or take your own maternity photo. Believe me, this is no longer that difficult!
Are there any good maternity images to inspire?
Our maternity photoshoots have more than 300 ideas for fun that celebrate a special day of your life. When you have kids you can expect a lot of excitement. We strongly believe that these events can forever change lives.
Stunning Maternity Photo shoot ideas

Maternity Photoshoot ideas will always remind the expectant mother what she felt during her pregnancy— how the days passed away and how she went through the difficult journey of nine months!
You know pregnancy is a mixture of many strange emotions. Sometimes you start crying, some other day you start laughing. Sometimes, there is a desire to eat things you have never tasted. Other times, you would puke because of your favorite food. 
During my pregnancy, I liked to eat raw tamarind and raw mangoes, which I never liked at all. My mother used to say that if your eating habits change during pregnancy, then a son is born. And the same happened with me. Have your eating habits changed?
Sorry I am very talkative, I like to talk about pregnancy. I want to share with you all the information that I know. You can also ask questions to me by email. We're back to our maternity photoshoot ideas.
I love black color very much and black maternity photoshoot is special for me. I did this collection because of black color.
Black color is bold and camouflages with any atmosphere. It flatters the skin tone: looks more elegant and mature. If you decided for a maternity photoshoot than why do you not think about black maternity pictures and black maternity photoshoot.
To entice you, I am sharing  my favorite all black maternityshoot and black family maternity photo ideas with you. 
I have already written topics on Black and white maternity shoot, underwater maternity photoshoot Beach maternity photoshoot. Perhaps, you would also like Black Maternity theme!
 Black Maternity Photoshoot 

Photo credit: lisaalamode
Stunning black women maternity photography by Matthews. She herself says that,"
I didn't receive a lot of support during my pregnancy. I didn't take any photos of myself and never even considered taking maternity portraits. I have always regretted it. I didn't want any other woman to feel the same shame I felt, so I focused my photography on maternity portraits–this way I could help empower other women to embrace their pregnancy and capture such a pivotal and monumental moment. I am thrilled to be a part of the process."

creditL:Sasha Matthews[/caption]
Mom-to-be is looking gorgeous in blue long-tailed maternity dress. Her off-shoulder gown suits upon her and black woman maternity pose is awesome. Her black pregnancy photoshoot is awesome.

photo by Green Tangerine Photography
Mom is looking stunning in vibrant marron color Plus Size Maternity Dress. Here is the link for more black women pregnancy photos.
Marron is my favorite I have a marron saree gifted by my daughter on my birthday. Do You want to give a look to Indian Beauty, I can send you. Please follow me on Pinterest for latest beach maternity photshoot and underwater maternity shoot Pins.
Black Queen Maternity Shoot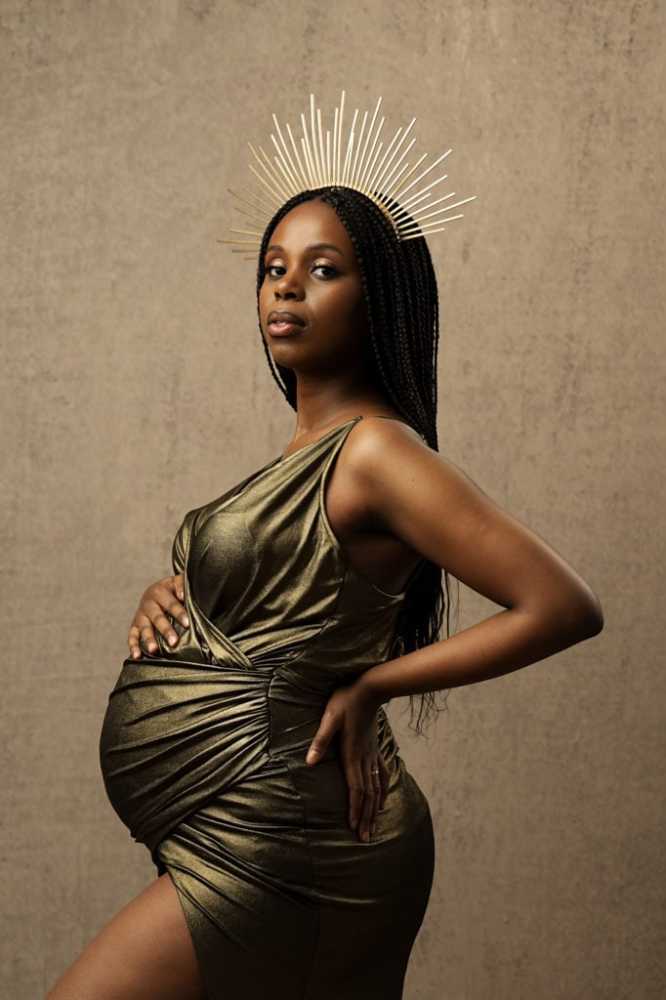 credit: tiannajwilliamsphotography
Black color has always been considered a sign of bravery and courage. Look at the pose of the black pregnant mother, how confident she is looking and the color of her dress is perfect for dark black maternity photoshoot. She looks like a black queen who came for her bold and black maternity shoot

photo creater: Judah Avenue[/caption]
Oh my god, look at this frilled maternity dress! How beautiful she is looking in! Who says that a woman's figure changes during pregnancy, a mother's body becomes beautiful and strong from the time of pregnancy. The black maternity shoots prove clearly.
Black Maternity Photoshoot By Anakosha
Anakosha is a great photographer, she specializes in shooting black maternity photos. Below are some black pregnancy photoshoot samples that you might love!

Photo Credit: anakoshaphotography.com
Oh! Look at the black beauty! She looks AMAZING with purple thin duppata(skarf). Gorgeous mom holding her baby bump with a hand and other on her waist.
Her creative black maternity photoshoot is different at all. She looks pretty bold in off shoulder top and jeans.

Creative black maternity photoshoot by anakoshaphotography
Black Maternity Pictures by anakoshaphotography is super cool. Mom is looking goddess in white maternity dress for photoshoot.
Her dark skin and glowing bump is popping within white dress. Black girl maternity shoot is looking master piece captured by great photographer. She wore perfect black maternity dress for photoshoot.
The Model Saunsu Creative Black Maternity PhotoShoot Is Inspiration!
She is such a great model who inspire many black women who had low confidence about their maternity photo session. She told about her first pregnancy announcement experience,"
"When I first found out I was pregnant, the first thing everyone said was, 'She's going to lose her career, she's dumb for keeping [the] baby.' My faith was tested. I was in a very negative space but after praying and family support, I realized that my baby is a blessing. And yes, I can still model and pursue my dreams and be an example with a baby."

Below are stunning black maternity shoot dresses wear by the model:-

photo Saunsu photographer Darrin Baldridge

photo Saunsu photographer Darrin Baldridge
Best Maternity Photoshoot Ideas For Black Couples
Try several angles for your best expression in a beautiful moment. Sometimes focusing only on one part is enough to make a clear and original image.
Relax and hug him for bringing you happiness. Is this secret trick for people who haven't yet figured out what expression is the most effective to start with? It will make you relax faster and take a better picture afterwards.
Black Couple Maternity Photoshoot James Hill
Romantic couple Tarrance and Keisha Maternity Sessions are awesome. They Both are looking happy and awaiting for their future child.
Photographer James Hill Captured very beautiful moments in his camera. He uses the best angles and poses for unique maternity pictures black couples. Black couple maternity photoshoot is one of my favorite photos.

tarrance and keisha's maternity photo session

tarrance and keisha's maternity photo session
Stylish Black Couple Maternity Pictures Ideas
How can i make black man look good? Try this trendy design idea! You do NOT have to buy a lot of clothes just for the photo shoot. Look for matching colors for the outfit you want. Any black or white person looks cool! Oh no, denim.
African Maternity Photoshoot By Ijeomakola
Below are a few african materrnity shooting photos keep you inspiring that Black is bold and free from all restrictions.
Ijeoma Kola share her dark maternity images with you all on her blog. Here is the link for creative black maternity photos. Awesome black couple maternity photos you like the most!

The photo: IJEOMA KOLA

photo: IJEOMA KOLA

credit photo: IJEOMA KOLA
Kola enjoyed her black maternity shoot a lot and advice all the black pregnant moms to have a black materntity photo shoot to describe the inner beauty of the body. She suggest you will forgot all your suffering and annoying of pregnancy after having a pregnancy shooting.
Now, it's your turn to describe your pregnancy with maternity photoshoot. Really, it's amazing experience for any mom-top-be!
Enjoy the Great Experience
When shooting portraits or maternity portraits, the photographer should feel comfortable having the photographs. The subject must have confidence that the woman's position is comfortable with the dress worn, pose and prop used.
Cute wings!
Do you like props in your household? Those photos are probably the easiest to use but might not be as fun.
Why Do You Like Black Maternity Shooting?
Black Maternity Shooting is Inspiration For many black mom-to-be. I have already mentioned Saunsu's black maternity photoshoot that inspire many plus size black maternity moms for black pregnancy photoshoot.
I have written many blog posts for maternity shoot dresses you can choose for your black maternity shoot. These maternity shoot dresses make you the most beautiful women in the world.
What is the best month to take maternity photos?
Although the ideal period of pregnancy photo sessions can be between 28 and 36 weeks, pregnant women can enjoy photos in their own homes as long as the pregnancy is not very close.
photoshoot. Perhaps, you would also like Black Maternity theme!