Dressing your little one as the infamous horror doll Chucky combines spookiness and humor, promising an exciting and memorable Halloween experience. You can dress your little one with a homemade Chucky costume.
Whether you choose it for the recognizable character, or just sheer fun, a Chucky costume for your toddler will surely turn heads and create lasting memories during this spooky holiday. 
Chucky Costume DIY For Your Toddler
Introducing your little one to the world of Halloween can be an exciting adventure, and what better way to do it than with a creative and adorable homemade Chucky costume for toddlers?
This article will guide you through the process, offering valuable tips and fantastic costume ideas to make your child's Halloween special. Get ready to unleash your crafting skills and transform your toddler into a pint-sized, not-so-scary Chucky doll that'll steal the spotlight on this spooktacular holiday.
How to make a Chucky Costume for your toddler?
I crafted a Chucky costume DIY for my one-year-old toddler. It bugs me that most babies and toddler costumes are cute and not spooky.
Maybe it's just me, but anyhow… Chucky has been my favorite scary character since I was a kid, and it still is to this day! I put this outfit together using regular jean overalls, a striped shirt, and some fabric glue to add material to the overall cuffs.
Use Fabric paint to write "Good guys" on the front and the buttons. I got some plain white shoes and painted them to look like the real deal. I used orange hair spray to color his hair and drew scary stitches on his face.
In this post, I'm sharing all the tips to create a Chucky DIY costume to make your little monster more spooky and scary to seek all attention on Halloween night.
Here are my latest Halloween blog posts you love to read:-
Chucky Halloween Costume DIY
These Chucky costumes are available at Amazon in sizes 2T, 3T, and 4T, making them an ideal choice for children aged 2 to 3 years.
Securing a Good Guys Chucky costume for toddlers can be quite a challenge. Occasionally, you might stumble upon one on Etsy or secondhand listings on eBay, but such discoveries are few and far between.
The most reliable approach to assembling this outfit is through a (DIY) approach. Here, it combines various items to achieve that iconic Chucky doll appearance.
Chucky Good Guy Overalls For Toddler
Any pair of blue bib toddler overalls is perfect for this Chucky Diy. Below are several options for you to consider. You can use an old one if you already have one! You can purchase a new, one or find one at the Salvation Army or a thrift store.
The best part is that you don't need to paint or add any designs to make it reusable for future use. However, if you'd like to resemble Chucky's doll overalls closely, you can use puffy fabric paint, Sharpies fabric markers, or permanent markers to write and draw on it.
Chucky Overalls Patterns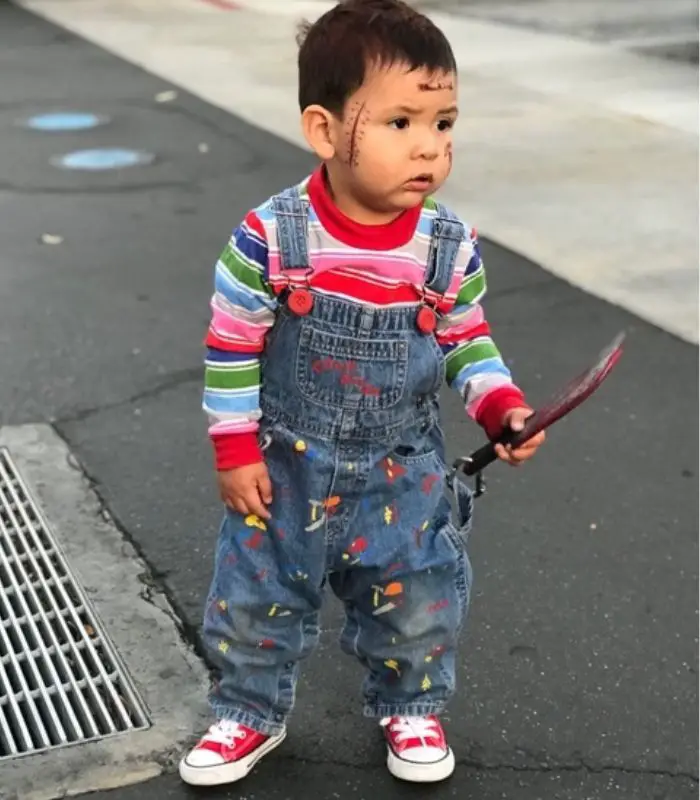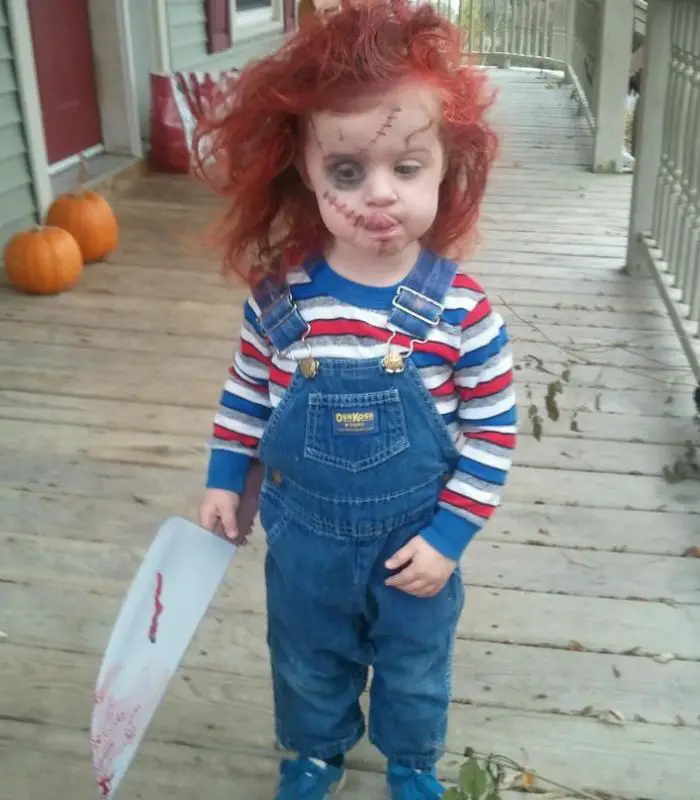 Good Guy Chucky Horror Patch
The Good Guys patch is typically a small, stitched-on logo on the overalls worn by the Good Guy doll. It features the words "Good Guys" in a playful font with a smiling character face.
Chucky wears overalls that say "Good Guys" on them. You can make your overalls look like his by using an easy-to-attach Good Guys Iron-On patch.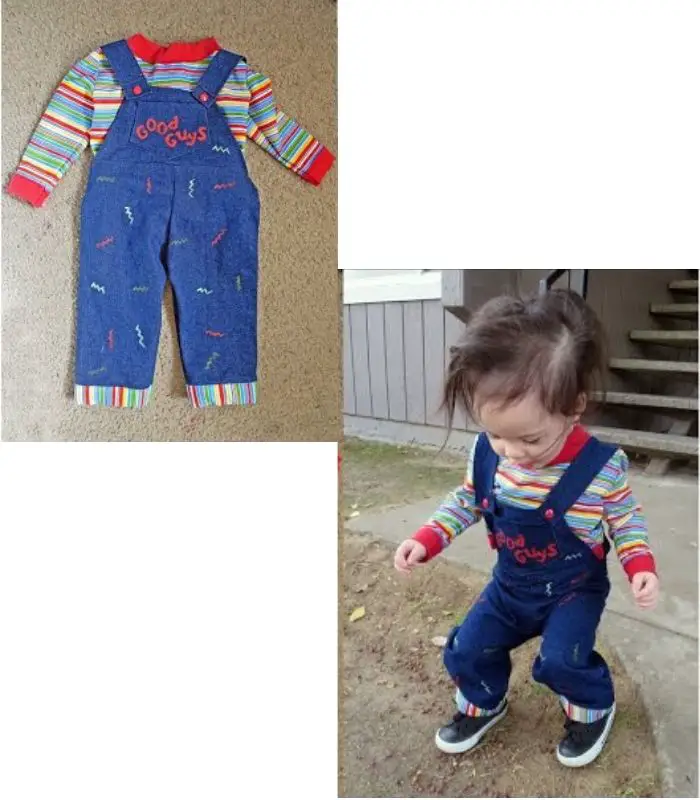 Hem Make Overalls More Scary
Darken colors to red or black. Add rips and stains. Use fake blood. Twist the shape. Make Chucky look scarier.
Make overalls dark and eerie.
Add creepy rips and stains.
Fake blood for horror.
Change the shape for unsettling.
Disturbing Chucky's look for maximum fear.
Chucky Costume Homemade
Chucky's overalls also have pictures on them, like a helmet, a bat, and a gun. You can draw these images with a special fabric pen.
Here's a tip: if you want the images to look just like Chucky's, print a picture of a Chucky doll and use it as a guide to copy the pictures. 
Toddler Chucky Shirt
Another choice to contemplate is the long-sleeved striped shirt that captures Chucky's iconic style. Chucky's shirt boasts a unique combination of blue, red, white, and green stripes, a pattern that probably isn't a staple in your child's everyday wardrobe.
You can either procure a rainbow-colored shirt that faithfully replicates the original design, or you can embark on a DIY adventure, a process that proves to be both simple and enjoyable.
Chucky's shirt is known for its iconic striped pattern, featuring a combination of blue, red, white, and green stripes. This unique combination sets it apart from typical children's clothing.
If you don't want to pay for this striped shirt, you can create your own as below:
Easy Diy For Chucky Shirt
Here are the easy steps for DIYing a Chucky striped shirt from a plain white one:
Materials:
Plain white long-sleeved shirt
Fabric paints (blue, red, white, green)
Paintbrush
Painter's tape
Ruler or measuring tape
Pencil
Steps:
Prepare your workspace.
Plan and mark the stripes.
Tape along the marked lines.
Paint blue, red, white, and green stripes.
Let each color dry before adding the next.
Remove the tape.
Make any necessary touch-ups.
Let the shirt fully dry.
Heat set the paint if required.
Now, you have your DIY Chucky striped shirt ready to go!
Here is the YouTube video link tutorial for a homemade Chucky costume.
Accessories For Chucky Costume
Chucky Red Hair
To add Chucky's red hair to a Chucky costume for Halloween, you can either buy a wig designed to look like his red hair or use temporary hair coloring products to dye your hair red. Wear the wig or apply the hair color to complete the homemade Chucky costume idea achieve the iconic Chucky look.
Fake Knife With Blood 
This Plastic toy fake knife with fake blood for Halloween costume accessories for adults & kids.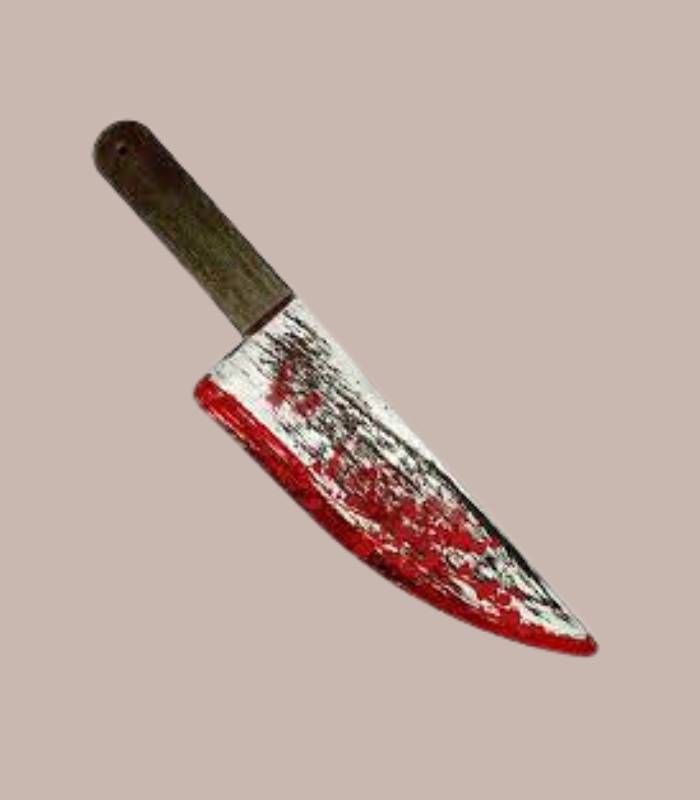 Bloody Scare Marks to Make Chucky More Creepy
You can use makeup or special effects products like liquid latex and fake blood to create bloody scar marks on a Chucky face costume for Halloween. Here's a simple way to do it:
Clean Chucky's face.
Apply liquid latex.
Shape scars while tacky.
Add fake blood for a gory look.
Smear blood as needed.
Weestep Toddler Shoes For Chucky's Costume
To complete a Chucky costume, you can find red and white sneakers, often called "wee shoes," at shoe stores or online retailers. These sneakers match the character's iconic footwear and add authenticity to your costume.
Halloween Scar Temporary Tattoos
Realistic stitch designs.
Easy water-based application.
Safe and temporary.
Various shapes and sizes.
Ideal for costume enhancement.
Affordable.
Easy removal.
Waterproof.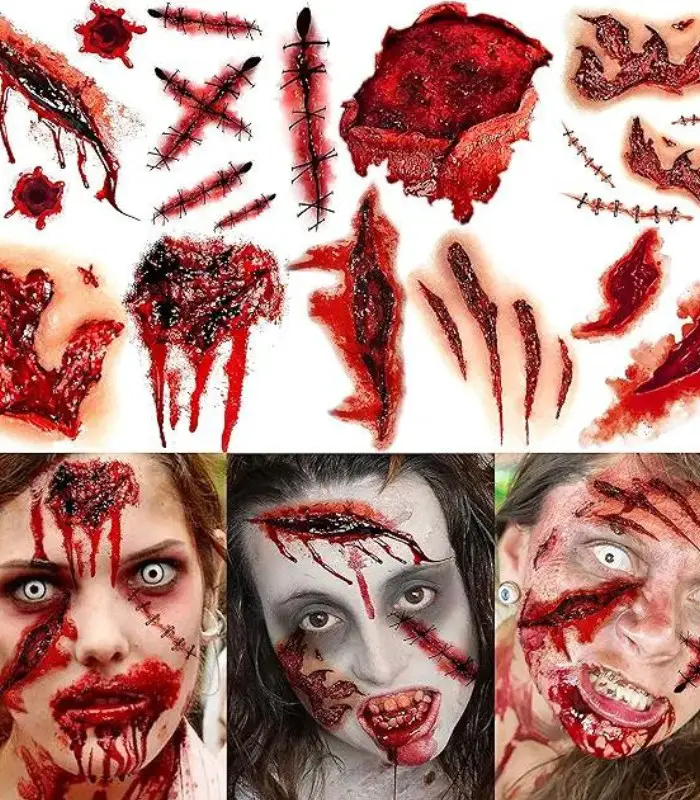 Chucky Makeup Tips
To do Chucky makeup for Halloween, follow these steps:
Clean Face: Start with a clean, dry face.
Base Makeup: Apply a light foundation or face paint to make your skin look doll-like and even.
Eyes: Use black eyeliner to create bold, prominent lines around the eyes, extending them slightly at the outer corners for a sinister look. Apply mascara or false eyelashes.
Eyebrows: Darken and thicken your eyebrows with brown or black eyeliner.
Lipstick: Apply bright red lipstick, making your lips look like Chucky's.
Scars: Use liquid latex to create scars on your face. Allow it to dry and then add fake blood for a gruesome effect.
Hair: Style your hair like Chucky's, which is red and usually messy.
Clothing: Wear the classic blue overalls and a striped shirt to complete the Chucky look.
Accessories: If you have a toy knife or ax, carry it to enhance the costume.
Practice: Practice the makeup beforehand to get the look just right.
Remember, safety is important. Use non-toxic, skin-safe makeup products, and be cautious with any adhesives like liquid latex.
Baby Chucky Costumes For 1-Year-Old
Baby Chucky costumes for infants less than one-year-old can be an adorable and fun choice for Halloween. Here are some ideas for dressing up your baby as a pint-sized Chucky:
Chucky Jumpsuit: Look for a Chucky-themed onesie or jumpsuit designed for babies. Ensure it's comfortable and easy to put on and take off.
Overalls and Striped Shirt: Dress your baby in blue overalls and a striped shirt, which are Chucky's trademark outfit. Make sure they're comfortable and safe for the baby.
Red Wig or Hat: You can find red wigs or hats that mimic Chucky's hair for your baby to wear. Ensure it's comfortable and secure on their head.
Makeup: For added cuteness, you can use non-toxic, baby-safe face paint to create a simplified Chucky face, like rosy cheeks and freckles, rather than a scarred look.
Toy Weapon: Give your baby a toy knife or ax as a prop, but ensure it's safe and age-appropriate.
Comfort and Safety: Always prioritize your baby's comfort and safety. Choose costumes made of soft and breathable materials, and avoid small parts that could be a choking hazard.
Photos: Get ready to take lots of adorable photos of your baby in their Chucky costume.
Different Chucky Costumes for toddler– Halloween Ideas
Here is a link to choose different Chucky costumes for your toddler.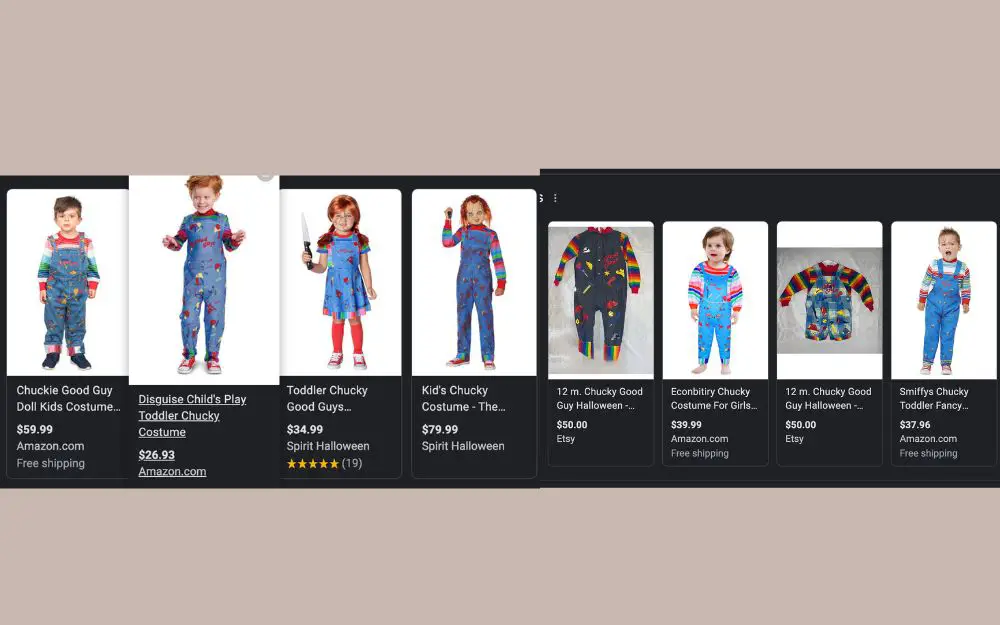 Chucky Costumes For Adults
Bride Of Chucky Costume
This Bride Of Chucky Halloween fancy dress costume includes a white dress with a fitted bodice and dip hem skirt. Also included is the black biker-look jacket and black choker …
Chucky and Tiffany Costume
Chucky and Tiffany, the iconic killer doll couple, make for a spooktacular costume idea. These two murderous dolls from the "Child's Play" series are the perfect choice for a creepy and fun Halloween costume. Get ready to frighten your friends with your killer style!
Tiffany Chucky Costume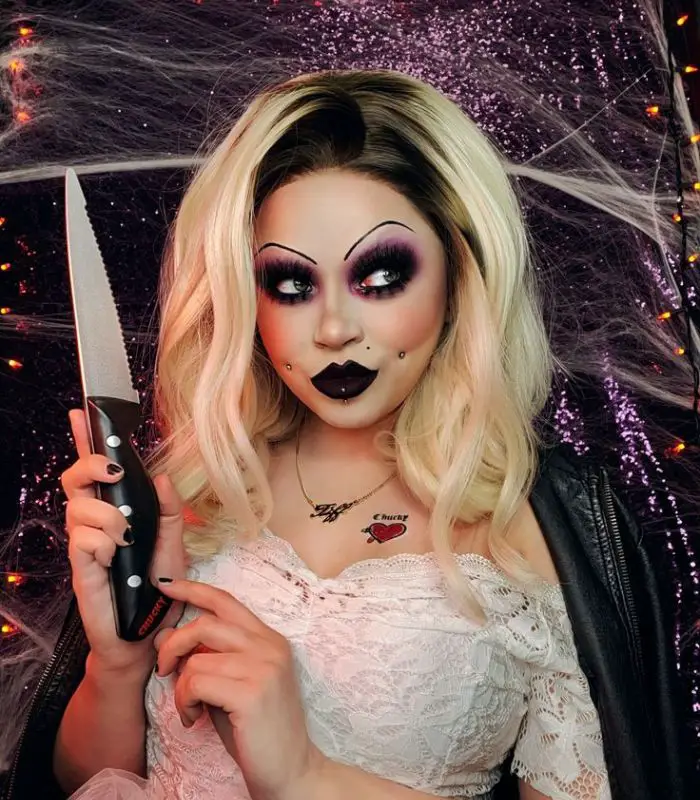 End Point
The key to a Chucky costume, whether for a baby or an adult, is to have fun while staying safe and comfortable. Enjoy the Halloween festivities and capture memorable moments in your Chucky outfit.