SPECTRA Vs MEDELA WHAT IS THE BEST FOR YOU?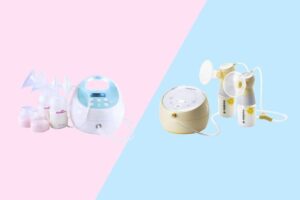 Hey new mom! You're enjoying the parenting journey! The amazing feelings to be a mom the first time! Isn't? Of course yes. Now your first priority is to nourish your baby. Here the question of what is best for your baby breastfeeding or formulas?  Breastfeeding is always the best option at least for the first six months. Read the topic about 10 Positions and Benefits of Breastfeeding After then  90+First Baby Food That Can Be Eaten With No Teeth.
As a stay-at-home mom, it's all easy for you to feed your baby on demand but what for working mom? It is important to think about a breast pump. SPECTRA S1 Vs S2 – Which one is the best? 
The most popular breast pumps are spectra and Medela. It considers the #1 mom breast pump and breast milk feeding products.
There are several situations that make you use the breast pump even you're a stay-at-home mom. Like illness or any kind of treatment that makes you unable to breastfeed. Then allow your pump to feed your baby safely. After all feeding baby on the demand is very important.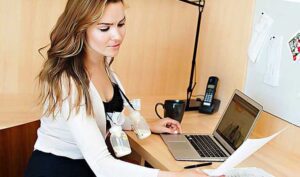 These devices are super easy and handy for you
to embark on a journey
just you want to maintain your milk supply
You're dealing with low supply
These are possible situations make you use breast pumps. I  made the decision after heard many moms' opinions about spectra vs Medela breast pump. These breast pumps are super useful when babies can't or won't nurse themselves.
There is a wide range of breast pumps in the market to make your breastfeeding journey easy and cool, you intend on pumping exclusively or to supplement your nursing routine.
However, You can get single, double, manual and electric pumps in the market. I'm with electric pumps as these are more effective and time-efficient than a single or manual pump.
The electric pump is rhythmic and you have full controlled suction to keep your milk flowing. It's hand free option makes the sense for the most moms.
As there is a variety of breast pumps you can find the best one that suits you. You can make an inquiry with your health insurance plan about your specific benefits and what to do to claim for your free breast pump.
Description of Spectra vs Medela via amazon with price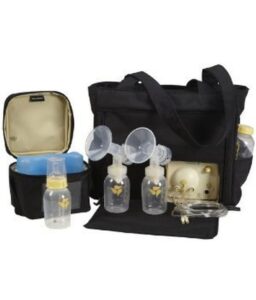 ADVANCED TECHNOLOGY FOR SUPERIOR PERFORMANCE: Thanks to its patented and research-based 2-Phase Expression Technology, mothers can produce more milk in less time; this breast pump was made for optimal efficiency and maximized flow

PORTABLE: Removable breast pump and battery pack allow for discreet, mobile pumping anytime  at home, at work, or on the go

CUSTOMIZABLE SETTINGS AND ACCESSORIES: Single knob adjustable speed and vacuum with one-touch letdown button; Set of each 24mm and 27mm size flanges allow moms to enhance their pumping experience, based on what's most effective and comfortable

OVERFLOW PROTECTION: Closed system at the motor, which prevents milk from entering the motor

INCLUDED: Removable breast pump; Double pumping kit: 2 sizes of flanges, 2 connectors, 2 valves & membranes, 1 set of tubing; Messenger bag; Cooler bag and ice pack; (4) 5oz/150mL bottles with lids; Battery pack and pouch; Power Adaptor 110/240V; Flexible plastic workspace; (2) Mesh storage bags
One of the most popular and trusted brands is Medela. Mostly, moms use the Medela brand. Its key features are:-
A double pump kit with a PersonalFit breast shield
Operate with plugged in
Adjustable speed and vacuum knob
All parts are BPA-free
It includes breast shields, membrane, valves, and tubing
It has a removable freezer pack and cooler bag
2. Spectra s1 and s2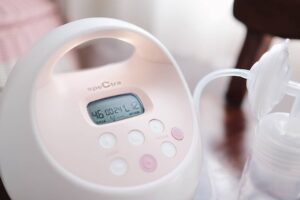 Includes Spectra S2 Hospital Grade Double/Single breast pump, 12 volt AC power adapter, detachable power cord prong, (2) It has wide neck bottle, (2) Spectra backflow protector, (2) duckbill valve, (2)  tubing, (2) 24mm flange, (2) 28mm flange

Closed system: No need to clean the narrow tubing because Spectra S1 has a closed pumping system that keeps tubing dry by preventing air flow between expressed milk and pump tubing while pumping protecting breast milk and baby from bacteria, mold, and viruses

Customizable settings: Each mother can customize her pump's settings to her own body's response and follow her flow to find her own best settings with the S2's completely adjustable suction and 2 phase cycling in let-down and expression mode

BPA/DEHP free: All of Spectra Baby USA storage containers and parts that come in contact with breast milk are BPA/DEHP free

Mommy owned: Spectra Baby USA is owned and run by registered nurses, board-certified lactation consultants, and more importantly… by moms

More About Spectra

Spectra is the fast gaining product among the breastfeeding moms. There's only one difference between the two. Apart from color, spectra s1 has a rechargeable battery.

It depends upon you what is the best spectra vs medela. According to the features. The S1 is the best for frequent pumping that doesn't need any power source. Spectra S1 is the best for the mom on trip and journey, working moms.

The spectra S2 is the best for the:-

mom who doesn't have any problem with pumping via electric source.

A mom who needs to pump a lot of breast milk

Spectra s2 save some money also
S2 is cheaper than S2
Main features of the spectra pump are:-
The maximum suction capacity of 280 mmHg and can adjust the suction
Hospital-grade strength motor
BPA free parts
Lightweight with no noise
can be used as single or double breasts
Its digital control allows you to set rhythm and speed
I'll suggest you for Spectra s1 as it has a battery and can be used without power supply. Spectra S2 can be used when plugged into a power source.
The common features between spectra vs medela pump are below:-
Both pumps are double electric
can function as a single pump also
They both are portable because of their battery option
Both have near about the same price
The spectra and medela are hands-free
You can use via breastfeeding bras and make your hands free
The moms can be control suction and speed
Now, what are differences between spectra vs medela:-
Open vs Closed system:-
Medela Pump In Style Advanced (PISA) has an open system and Spectra S1 is a closed system pump
S1 has a way to keep milk from entering the motor but medela doesn't have any barrier
The Spectra S1 is more hygienic and doesn't effect on motor performance
A closed system pump is more sanitary while an open system pump requires to constantly sterilize the tubes
Battery:-
Both pumps are portable and can run on the battery
S1 comes with a built-in rechargeable battery but medela has a AA batteries
Health Concern:-
Medela has a PISA that allows the backflow of milk and causes moisture. It is not good and leads tp molds growing in the tube.
Spectra S1 is a close system pump. So, it is good sign nourishment for the baby.
Power:-
Spectra S1 is the most powerful breast pump. It is a hospital grade trusted brand
It helps to stabilize the breast milk supply
Start with a massage while nursing. You get better results.
S1 has a maximum suction strength of 280 mmHg. Medela pump has a maximum of 250 mmHg
Other features that can't be neglected about Spectra S1 parts are not available in the local stores. You can get via Amazon only.
One complaint about medela PISA is that the suction cause sore nipples and painful pumping. You have to place the right flange on the nipples to avoid pain. Spectra S1 is more gentle, comfortable and more efficient while pumping.
PROS & CONS OF SPECTRA vS MEDELA
Medela PISA Pros
Parts are easily available
It's a good adapter and ideal for trips
Medela comes with many accessories- cooler with an ice pack, tote bag, and 4 bottles.
Flange and shields are easy to clean
Medela PISA Cons
Open system pump
The Suction ability is less than hospital-grade pumps
It is a bit noisy
heavy in weight
Spectra S1 Pros
Closed system
Affordable price
Gentle
Portable
Less noisy
light-weighted
It includes a Nightlight mode
Spectra S1 Cons
Inferior quality bottles
Not available in the US market for so long
Parts are not available in the stores
Bottles have an inferior quality
It comes with only one Flange and shields, making cleaning more difficult
It is very difficult to say which one the better between spectra vs medela. Breast pumps have the ability to make breastfeeding easier for new moms.
Conclusion
Spectra vs medela both have the combination of power pumping strength, digital control, less noise and provide comfort while nursing. It's difficult to say which one is the best.
Although, each mom has her own choice of what is best for her. You'll be able to decide the right after considering the points Because all moms have their own preferences. Choice according to your comfortability and adorability. If you like my efforts please share it with your friend. It'll help me to grow my little blog.