Finding the best baby diapers for your newborn baby is one of the toughest tasks that you have to do as a new parent.
Since there are so many diaper brands available in the market, you can get confused as to which one would be perfect for your baby's delicate skin.
Just Pampers diapers offer 12 different diaper types that you can choose from, as per your needs. Nevertheless, this choice becomes even more important when most parents soon learn that diapers are vital for the first few months of your newborn's life.
To help you choose the right diaper, we have tried to put together all the similarities and differences between Pampers Cruisers vs Swaddlers.
Your baby's delicate skin needs a diaper that's easy to use, offers quality absorbency, gives a snuggly feel, and comes with wetness indicators.
We hope this review can help you decide the best diaper option for you and your baby.
Pampers Swaddlers are hypoallergenic and are made using paraben and latex-free material, which helps support elasticity and eliminate discomfort. These diapers are soft, stretchy, and offer a smooth touch on your baby's body. They are suitable for baby's comfort with weak mobility and are affordable, and convenient.
1. Pampers Swaddlers Size
Pampers Swaddlers are generally designed for younger babies and can fit a baby's diaper of newborn size to 6. So, if your baby's diaper size is more than 6, you should consider Pampers cruisers.
Some of the best features of Pampers Swaddlers baby diapers are as below:-
2. Newborn Notch
Pampers Swaddlers have a unique feature called Newborn Notch. This notch protects the small umbilical stumps on the baby's belly.
You'll not find this unique feature in any other diapers, which is why Pampers Swaddlers are largely used by many parents worldwide. Our experts absolutely love this unique umbilical cord notch, as it does not irritate cords on babies or cause any discomfort; it only keeps your baby comfortable.
3. Wetness Indicator Feature
The wet stripe is another amazing part of Pampers Swaddlers. It allows you to immediately know when you need a diaper change. It indicates that the baby has a wet diaper by changing the color of the stripe.
Therefore you can change the diaper instantly to prevent diaper rash, and keep your baby dry. This feature also allows parents to figure out how often their infants urinate.
4. Ultra softness
Generally, disposable diapers feel scratchy to the baby's sensitive skin and may get them irritated very quickly. However, with Swaddlers diapers, you won't find any scratchiness on your baby's belly or thighs.
Pampers Swaddlers are extra soft. Moreover, there's an absorb-away liner that keeps moisture away from the baby's skin and places it inside the diaper. So let's bid farewell to wetness and irritation, and welcome overnight dryness when using Pampers Swaddlers.
It ensures that your baby does not catch any diaper rash or skin irritation!
5. Budget-friendly
The good news is Pampers Swaddlers are super cheap and can be purchased without any money constraints. The price range is low enough to secure your baby's first few months of life.
Pampers Swaddlers are easily affordable, even when you are on a low budget. The prices will really help you maintain your baby budget every month, even when you are required to change 6 to 10 diapers a day. Changing the diapers will obviously be harder work than your job, but totally affordable and pocket-friendly.
6. Air and Wetness Channels
Pampers Swaddlers have grooves on their surface to prevent wetness concentration at a single spot.
The Wetness and Air Channels distribute wetness evenly and keep your baby dry and comfortable at night. This makes the diaper usable for at least 12 hours.
Top features of Pampers Swaddlers:
Here are some more purchase-worthy features of Pampers Swaddlers:
It is the #1 choice for hospitals and parents as it is softer with leak protection. It works well for both newborns and active babies.
It has a wetness indicator that tells you when to change the baby's diaper.
Provides up to 12 hours of protection.
It is super soft and comfortable as compared to other diapers.
Pampers Swaddlers contain AGM gel for absorbency.
Swaddlers Don't cause any allergies and are very safe for your baby's skin.
It Contains an umbilical cord notch to protect and keep the baby dry.
It has air and wetness channels that allow air to reach the baby's skin and keep it dry all the time.
It contains centered tabs for easy fit.
Pampers Swaddlers Sizes
Pampers Swaddlers come in sizes newborn to 7 and are suitable for babies weighing anywhere from under 10 pounds to 41 pounds. If you are planning on getting Pampers Swaddlers for your baby, you can buy them here on Amazon!
Sizes Available For Pampers Swaddlers:-
For Preemie babies up to 6lbs
Newborn babies up to 10 lbs
Sizes 1 available for 8-14 lbs
Size 2 is good for 12-18 lbs
Size 3 is comfortable for 16-28 lbs
whereas size 4 is fit for 22-37 lbs
Size 5 is for 27 lbs
And size 6 is good for 35 lbs
Size 7 is super comfortable for 41 lbs and above.
Final Words For Pampers Swaddlers
Pampers Swaddlers are the #1 choice for parents because of their unique features. These are high-quality pampers diapers that keep the baby dry by absorbing all leakage. They are soft, highly protective, and are available at a decent price.
Pampers brand makes it possible for Swaddlers to be available from preemie size to 7, as a great fit with all age groups. Its wetness indicator is a plus point with the super-soft cozy feel.
As the babies start growing up, they may not have a regular weight and shape, as there is no ideal size depending on the baby's age. Some babies may grow a nice butt, some may not; and this leaves Pampers Cruisers as the best choice for your baby!
Pamper Cruisers are another great diaper as these are super comfortable, with 100% absorbency, comfortable fit, and lack of leakage. These are incredible for babies weighing around 16 pounds to 41 pounds.
If you want to keep your baby dry, comfortable, and moisture-free, this is your go-to baby diaper.
Pampers Cruisers are made by using pure cotton and stretchable material, which makes them easy to put on and remove using easy-tear sides.
Some amazing features of Pampers Cruisers include:
Absorbency and Leakage Protection
Pampers Cruisers come in a unique shape that is highly effective for absorbency and leakage protection. The snug fit reduces the chances of leaking onto your baby's legs, and with the absorbent channels, the baby diapers will not need to be changed frequently.
If your child turns or bends there's no diaper gel on their body, which allows complete baby freedom. The tight fit helps prevent the urine from leaking out of the diaper, so your baby can't enter into the world of germs.
What makes Pamper Cruisers special?
Pampers Cruisers have dual leak guard barriers that prevent leakage to the fullest. In most diapers, when your baby starts crawling or makes any movement, their diaper starts getting loose from the thigh and waist area, leading to diaper leakage.
If you want your baby's skin dry all night, then pampers cruisers are ideal for an active baby. These are specially made for active babies and are light in weight, as compared to other diaper brands.
You won't be facing any such problems in Pamper cruisers as they not only perfectly fit the baby's waist, but also when the baby starts moving, diapers move with them too.
You must get rid of unexpected leakages and the hard work that comes with a cloth diaper.
12-hour comfort
Pamper Cruisers are the best choice to prevent leakage as they are specially designed to hold more fluid, so no more changing of diapers in the middle of the night.
It also has similar air dry channels like Swaddlers that take all moisture away and distribute it evenly across the diaper. Babies wear cruisers to ensure that they sleep in a comfortable and leak-proof diaper.
Affordable
Both the Swaddlers and Cruisers most affordable and useful diapers that you can buy for your older babies, and they don't have a major difference in their prices. However, Cruisers are a little less costly as compared to Swaddlers.
You can easily afford any of these diapers for your baby, and enjoy the amazing benefits that Pampers diapers have to offer.
Top features of Pampers Cruisers
Here are some more features of Pampers diapers. As mentioned, Pampers cruisers are leakproof, making them the best choice for active babies.
It offers a 360-degree waistband for a perfect fit on your baby.
It has dual leak guard barriers that prevent leakage even if your baby moves a lot. Be fearless and let them play all they want.
Contains easy-tear soft stretchy sides that make removing the diapers simpler.
Special air dry channels to keep the baby dry for almost 12 hours.
Good soft cotton-like material to protect baby's sensitive skin and avoid diaper rash.
Contains roll and toss tape for disposal.
Pamper Swaddlers: Pros & Cons
Here are some of the most common pros and cons of Pamper Swaddlers. These are going to help make a choice:
Pros of Pampers Swaddlers
Offers a perfect fit for the baby
No leakage possibility
Keeps the baby all dry with quick moisture absorption
Doesn't develop any skin irritation or rash on your baby's skin
Comes with a wetness stripe that changes from yellow to blue when your baby needs a diaper change
No bad smell
Suitable for all babies including smaller babies, premature ones,and also babies with weak mobility.
Contains a good wetness holding capacity.
Easily affordable and no extra cost.
Less thin as compared to regular diapers in the market.
Cons of Pampers Swaddlers
During summers, elastic can feel a little tight on the thighs.
Might notice some white powder on the baby's skin after the removal of the diaper.
Pampers Cruisers: Pros & Cons
Here are some of the most common pros and cons of Pamper Cruisers. These are going to help make a choice:
Pros of Pamper Cruisers
Best for babies who are active and energetic
Amazing 12-hour protection without any blow outs and leakages
Diapers cost low
Doesn't irritate your baby's delicate skin or cause any rashes
Perfect for overnight use
No bad smell
Easy to change and dispose, with soft stretchy sides
Multiple absorbent channels for even distribution of wetness
Cons of Pampers Cruisers
It can cause an allergic reaction if your baby's skin is sensitive.
Contains a 360-degree waistband so the back of the diaper does not come up completely.
The main differences between Pampers Swaddlers vs Cruisers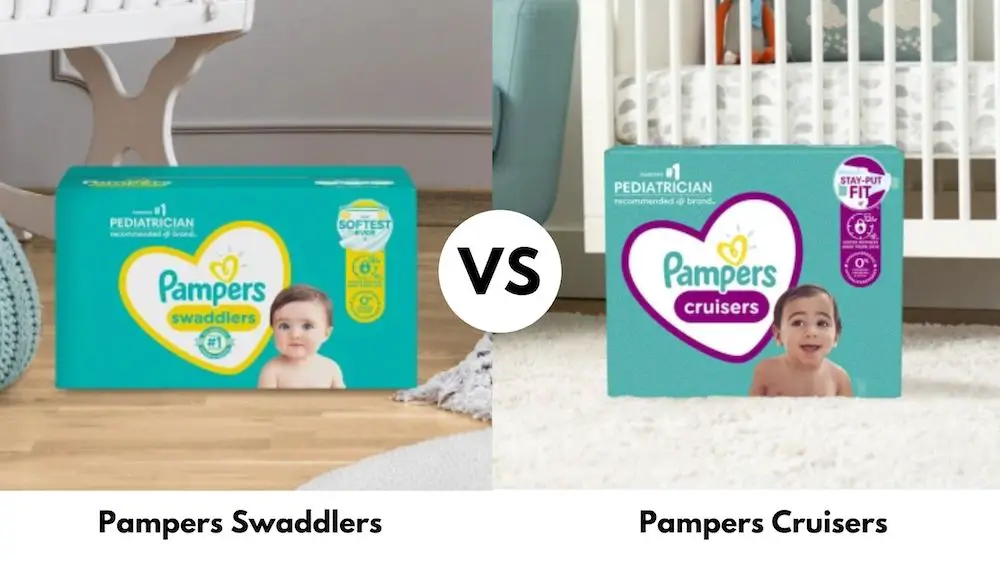 Here are some of the key differences between Pampers Cruisers vs Swaddlers are:
Pampers Swaddlers offer a wetness channel that keeps your baby dry all day, whereas Pampers Cruisers don't have this wetness channel in them.
Pamper Swaddlers contain a wetness indicator that indicates when a diaper is wet; while Pampers Cruisers don't have any indicator.
Generally, Pampers Swaddlers are used for small babies weighing around 6 pounds (that is 2.722 kilograms), and Pampers Cruisers are for babies that are around 16 pounds (that is 7.257 kilograms). We can also say that Pampers Swaddlers are for small babies and Pampers Cruisers are for 13+ months old babies.
FAQS About Pamper Cruisers and Swaddlers
Question 1: Are Pamper Cruisers good for overnight?
Yes, pamper cruisers are good for overnight use as they keep babies dry for up to 12 hours.
Question 2: Do Pampers Cruisers have a wetness indicator?
Unfortunately, pamper cruisers do not have a wetness indicator that can tell you whether the diaper is solid or not.
Question 3: Do Cruisers Pampers pull-ups?
Pamper Cruisers are a 360-degree fit and designed in a way to protect your active baby. The waistband can stretch on the waist for almost around 360 degrees gap-free fit. They are easy to pull on, as well as remove with easy tear sides.
Question 4: When should I switch from Swaddlers to Cruisers?
As I have already mentioned, Swaddlers are a good choice for a newborn baby and Cruisers are a good option when your baby is 13 months old.
As both the diapers are super soft, affordable, comfortable, and leakproof, you can switch to Cruisers when your baby is 13 months old.
Question 5: What size do Pamper Cruisers come in? '
Pamper Cruisers are for bigger babies, starting from 13 months old. This is why the available diaper sizes for Pamper cruisers are sizes 3, 4, 5, 6, and 7.
Question 6: How do I know which diaper size is perfect for the baby?
This is one of the most important things to notice as diapers should be super comfortable for the baby. Always check that the diapers are not tight around the baby's waist and thighs. Pick the perfect size of diapers, and avoid the ones that do not have a long gap or are too tight for the baby.
Question 7: How many Swaddlers should I change in a day?
As Swaddlers are for newborn babies, you might need to change them 8 to 10 times a day, when they are completely wet.
Fortunately, Pamper Swaddlers have a wetness indicator that indicates you whenever it's time to change the diaper. So in Swaddlers, you don't have to worry about changing the diapers just anytime or when it starts smelling bad.
Bottom line
Both Pampers Cruisers vs Swaddlers are super comfortable, affordable, and offer surprising features that are very helpful. But, which one is the best?
There is no superiority or choice among both the diapers, as they are both are used in different timelines. So you can just say that both Pampers Swaddlers vs Cruisers are perfect for your baby.
Swaddlers are the best option for newborns with weak mobility as they are super soft and comfortable. On the other hand, Cruisers are most suitable for 13-month-old babies who are highly energetic and active as it is leakproof, easy to wear, and disposable.
I hope this article helped you understand the basic features, pros and cons, and the difference between these two amazing baby products. To keep learning more about pregnancy, parenting, motherhood, and other important baby stuff, subscribe to our mailing list and don't miss a chance to get exclusive info directly to your Gmail.
Related Articles: